Low-Water Natives and Perennials
Given the ongoing significance of water conservation, the demand for plants that can thrive over extended periods with minimal water usage is highly significant. Fortunately, at SummerWinds, we offer a wide range of exquisite California Natives and Low-Water Perennials that not only thrive with reduced water usage but also enhance the beauty of our landscapes in California.
California Natives & Low- Water Perennials
10 California Natives
---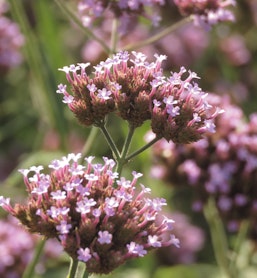 1. Narrowleaf Milkweed
Asclepias fascicularis
Perennial plant - Native to California
Narrow, lance-shaped leaves
Clusters of small, fragrant, pink or white flowers
Attracts butterflies and other pollinators
Provides food and habitat for Monarch butterfly larvae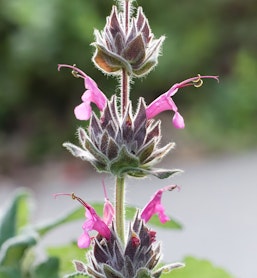 2. Hummingbird Sage
Salvia spathacea
Perennial plant - Native to California
Large, attractive, deep green leaves
Showy, tubular, magenta-colored flowers
Attracts hummingbirds and other pollinators
Drought-tolerant once established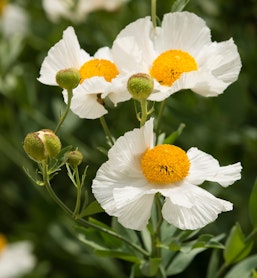 3. Romneya
Romneya coulteri
Perennial plant - Native to California
Also known as Matilija Poppy or Tree Poppy
Large, fragrant, white flowers with a yellow center
Grey-green, deeply divided leaves
Requires well-draining soil and full sun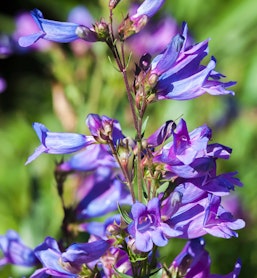 4. Blue Springs Penstemon
Penstemon heterophyllus 'Blue Springs'
Perennial plant - Native to California
Compact, upright growth habit
Vibrant blue-violet flowers with white throats
Lance-shaped, evergreen leaves
Drought-tolerant and attracts pollinators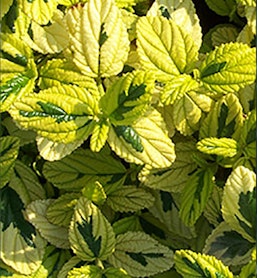 5. Diamond Heights Ceanothus
Ceanothus 'Diamond Heights'
Evergreen shrub - Native to California
Compact, rounded form
Dark green, glossy leaves
Clusters of fragrant, light blue flowers
Drought-tolerant once established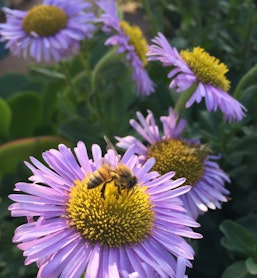 6. Erigeron Wayne Roderick
Perennial plant - Native to California coastal areas
Low-growing, spreading habit
Gray-green leaves with daisy-like flowers
Flowers have lavender-blue petals with yellow centers
Tolerates coastal conditions and attracts pollinators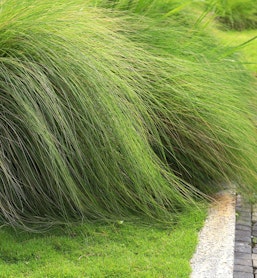 7. Deer Grass
Muhlenbergia rigens
Perennial grass - Native to California
Clumping grass with dense, fountain-like growth
Silvery-green, arching leaves
Tall, showy flower spikes in late summer
Drought-tolerant and provides habitat for wildlife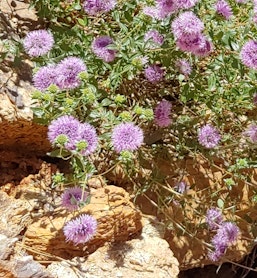 8. Coyote Mint
Monardella villosa
Perennial plant - Native to California
Low-growing, spreading habit
Aromatic foliage with minty scent
Clusters of lavender to purple flowers
Attracts pollinators and tolerates dry conditions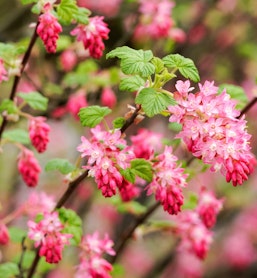 9. Spring Showers Ribes
Ribes sanguineum 'Spring Showers'
Deciduous shrub - Native to California
Upright growth habit
Lobed, green leaves
Drooping clusters of pink flowers in spring
Provides nectar for hummingbirds and attracts pollinators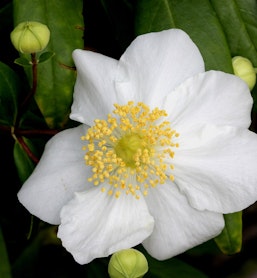 10. Carpenteria californica
Evergreen shrub - Native to California
Glossy, dark green leaves
Large, white, fragrant flowers
Blooms from late spring to early summer
Requires well-draining soil and prefers partial shade
---
10 Low-Water Perennials
---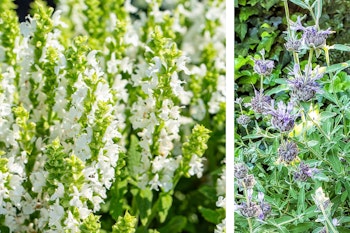 1. Bee's Bliss Salvia
Salvia 'Bee's Bliss'
Drought-tolerant and low-maintenance
Produces fragrant, lavender-blue flowers
Attracts bees, butterflies, and hummingbirds
Grey-green, aromatic foliage
Well-suited for rock gardens and slopes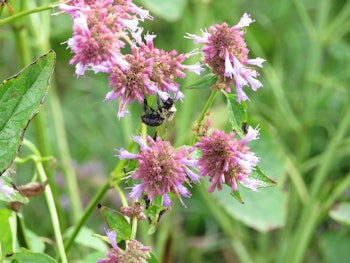 2. Hummingbird Mint
Agastache spp.
Attracts hummingbirds, bees, and butterflies
Produces tubular flowers in various colors like pink, orange, and purple
Fragrant leaves with a minty scent
Tolerant of dry conditions
Prized for its long-lasting blooms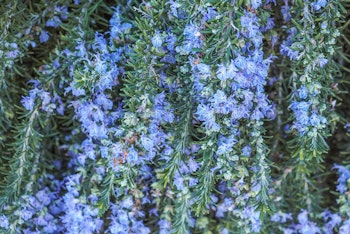 3. Rosemary
Rosmarinus officinalis
Fragrant, needle-like leaves
Produces small, pale blue flowers
Drought-tolerant once established
Often used in cooking and culinary purposes
Tolerates full sun and well-drained soil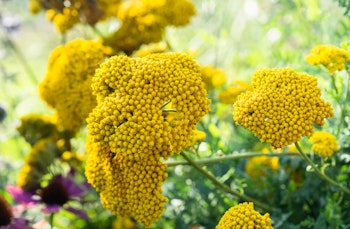 4. Achillea
Achillea spp.
Commonly known as Yarrow
Clusters of small, flat-topped flowers in various colors like yellow, pink, and white
Fern-like, aromatic foliage
Attracts butterflies and other pollinators
Tolerant of dry conditions and well-drained soil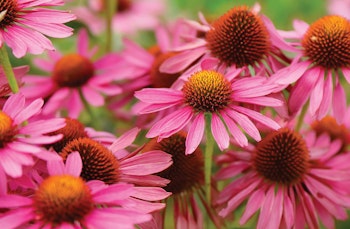 5. Echinacea
Echinacea spp.
Also known as Coneflower
Produces large, daisy-like flowers in shades of purple, pink, and white
Attracts bees and butterflies
Tolerant of drought and heat
Enhances pollinator activity in the garden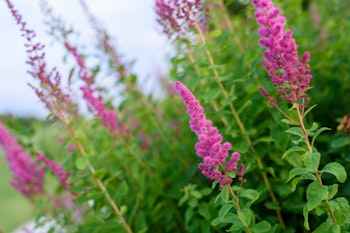 6. Butterfly Bush
Buddleja spp.
Known for its fragrant flowers that attract butterflies and hummingbirds
Flowers come in a variety of colors, including purple, pink, white, and yellow
Long, arching branches with lance-shaped leaves
Requires well-drained soil and full sun
Pruning helps maintain shape and encourages more blooms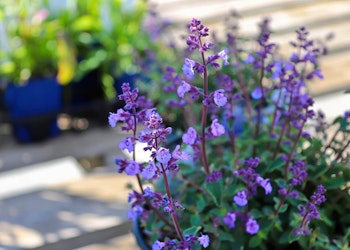 7. Catmint
Nepeta spp.
Attracts bees and butterflies
Produces spikes of lavender-blue flowers
Grey-green, aromatic foliage
Tolerates dry conditions and poor soil
Can have a cascading or clumping growth habit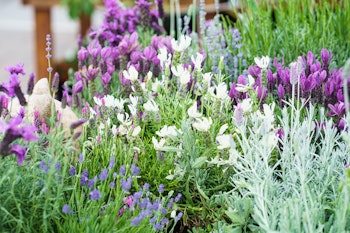 Lavandula spp.
Fragrant flowers and foliage
Flowers come in various colors, including shades of purple, blue, pink, and white
Drought-tolerant once established
Attracts bees and butterflies
Used for culinary, medicinal, and decorative purposes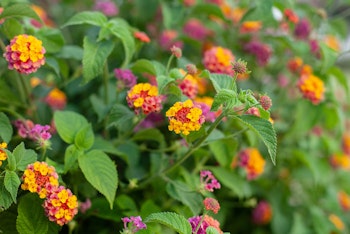 9. Lantana
Lantana spp.
Clusters of small, brightly colored flowers in shades of red, orange, yellow, pink, and white
Attracts butterflies and hummingbirds
Tolerant of heat and drought
Can be grown as a shrub or ground cover
Pruning promotes bushier growth and more flowers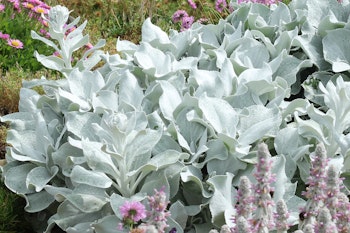 10. Senecio candicans Angel Wings
Soft, silvery-white foliage that resembles angel wings – velvety texture
Drought tolerant once established
Low maintenance plant – requires little pruning
Looks great in containers, as groundcover, in borders and rock gardens
Prefers full sun to partial shade
While resistant to deer, it attracts butterflies and other pollinators
---
Low-Water Essentials for Perennials & Shrubs
---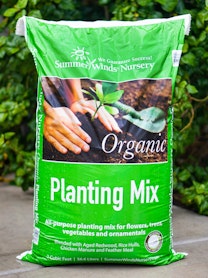 SummerWinds Planting Mix
100% Natural and Organic all-purpose planting mix for flowers, trees, vegetables and ornamentals. Formulated for the Bay Area, this exceptional planting mix has received the CDFA seal of approval. Blended with aged redwood, rice hulls, chicken manure and feather meal.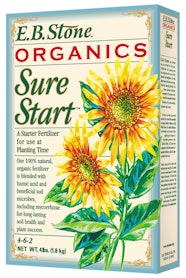 E.B. Stone Organics Sure Start
Sure Start is a blend of natural organic ingredients formulated for use when planting or transplanting plants. It's a gentle organic formula that will not burn. Contains mycorrhizae, beneficial bacteria and humic acid. Mycorrhizae: are naturally occurring fungus that attaches to plant roots to form a symbiotic relation with the plant. It's like putting an extended root system on the plant!
4 lb. Package
Feeds at a natural rate
Provides a health ecosystem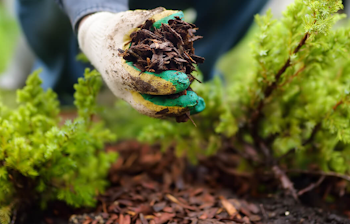 Mulch, Mulch, Mulch
Mulching – or covering a garden surface with a layer of mulch material – provides many advantages to your summer landscape but the biggest and the most important advantage is retaining water and water conservation. When planting trees, shrubs and perennials, it's a wonderful time to lay down some material. Don't worry, we're here to help make sense of mulch!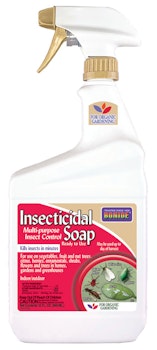 Don't forget to protect with - Bonide Insecticidal Soap
Safe for indoor use and out, Bonide Insecticidal Soap will prevent and protect your plants from insects, even killing exising insects in minutes. A multi-purpose insect control for organic gardening is great to use to on vegetables, ornamentals, shrubs, flowers, and more.
---