Edible Spring Bulbs, Tubers & Crowns
Get an Edible Start on Bulbs
---

Seed Potatoes
Banana Potatoes - Solanum tuberosum 'Banana'
Cal White Potatoes - Solanum tuberosum 'Cal White'
Dark Red Norland Potatoes - Solanum tuberosum 'Dark Red Norland'
German Butterball Potatoes - Solanum tuberosum 'German Butterball'
Purple Majesty Potatoes - Solanum tuberosum 'Purple Majesty'
Russet Burbank Potatoes - Solanum tuberosum 'Russet Burbank'
French Fingerling Potatoes - Solanum tuberosum 'French Fingerling'
NEW! - Huckleberry Gold Potatoes - Solanum tuberosum 'Huckleberry Gold'
To maximize your yield, keep potatoes well watered throughout the summer, and more importantly during the time when they are flowering. The best time to water is early in the days so the foliage can dry out by evening.
Sweet Potatoes Bayou Belle
Ipomoea batatas 'Bayou Belle' - Sweet Potato shoots and young leaves are edible and are considered a tasty vegetable in many parts of the world. In addition, the fast-growing, beautiful vines make an effective ground cover, especially in perennial locations.
---
Garlic Bulbs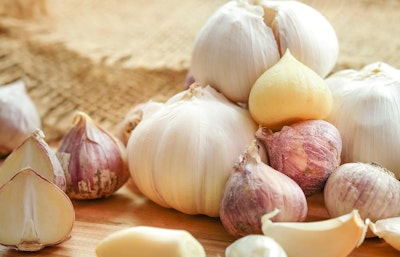 Varieties:
Elephant Garlic - Elephant Garlic earned its name for its size, how it smells and for how it tastes but not because it is garlic. It's actually a member of the leek family.
California Garlic - This is a great variety as it is an early season harvest, offers a nice mild flavor, stores well, and produces 10 to 16 cloves per head. What more could you want?
---
Shallots
Red Biztro Shallots
Yellow Moon Shallots
Where would be without shallots? They're often seen in French cuisine, where they're featured in classic sauces such as mignonette. They're also indispensable to Asian dishes—often crisp-fried or ground into curry pastes.

Milder in flavor than red onions, but more assertive than yellow, with a hint of garlic flavor. Uses: Thinly sliced and fried for topping Thai curried noodles, congee, or deviled eggs; minced into basic vinaigrettes for added crunch and flavor. You'll need shallots to make the Ultimate Thanksgiving Green Bean Casserole, and we love them roasted under a whole chicken.
---
Onion Bulbs
All of the onion varieties below, vary slightly in flavor, texture, and color, but can usually be substituted for one another. In terms of cooking, they will all behave the same in the pan.
Varieties:
Red Baron - Red Baron Onions grow well in most soils in full sun. Their red color ranges from a deep red to a purple and they produce a round to flat onion with a fantastic, slightly spicy taste.
Stuttgarter Yellow Onion - The firm skin of this yellow onion makes it a great variety for storage. The Stuttgarter onion is best used for cooking. It's hot when eaten raw but the heat of the onion dissipates during cooking.
White Snowball Onion - White papery skin with a slightly sharp, zesty, flavor. Often used in Mexican cooking.
---
Protect Your Bulbs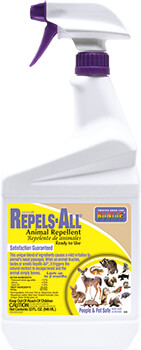 Protect your edible bulbs from those furry critters
Bonide Repels-All® has your back!
They may be cute, but squirrels, rabbits, chipmunks, mice and others may be the demise of your beautiful bulbs. If you see these little critters snacking away, allow Repels-All® to get your back. Available in Ready-To-Use 32 oz. - Repels-All Animal Repellent offers Satisfaction Guaranteed. Their unique blend of ingredients cause a mild irritation to the animal's nasal passages. When an animal touches, tastes or smells Repels-All®, it triggers the natural instinct to escape/avoid and the animal simply leaves. Lasts up to 2 months.

People and Pet Safe when used as directed.
---
Sources: