Blueberry Plants Varieties and Care

For The Love Of Blueberries
Blueberry plants are one of the easier berries to grow. They are resistant to most pests and diseases and can produce fruit for 15 plus years. Blueberries are a relative of the rhododendron and azalea and like them, prefer acidic soil and make an attractive addition to your California landscape. Blueberries are partially self-fertile, so you will harvest more and larger berries by planting two or more varieties. Planting more than one variety can also extend the harvest season. And did we mention they are tasty? They are really tasty and remain one of the most nutritious, antioxidant-rich types of fruit in the world and have been shown to do everything from enhance brain health to keep your heart strong.
Please note that not all varieties may be available at all locations. See your local SummerWinds for availability.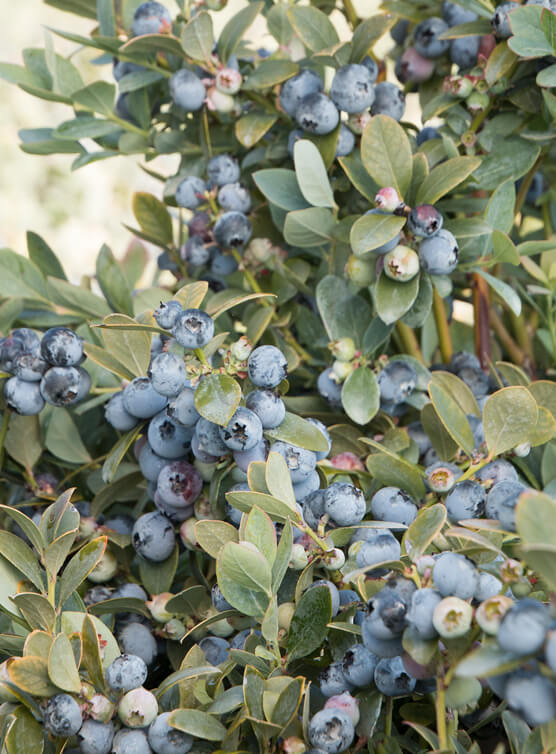 Bountiful Blue® Blueberry
Vaccinium corymbosum
An award winning variety with the bluest of foliage! Pink-blushed flowers produce a big crop of large, sweet, juicy berries on a compact, mounded shrub. Perfect for hedges or planting in large tubs. Self-fertile, though planting with another variety may increase yields.
Needs only 150-200 winter chill hours.
Semi-evergreen in mild climates.
Moderate growing; reaches 3 to 4 ft. tall and wide.
---
Blueberry Glaze® Blueberry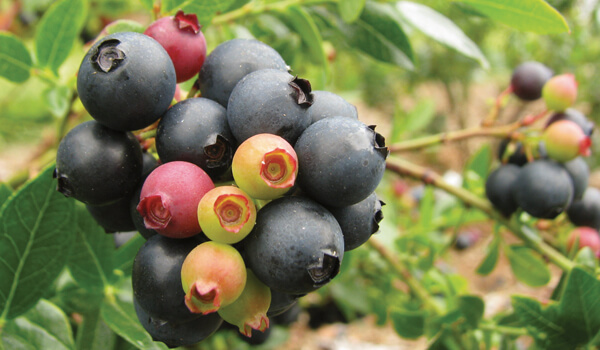 Vaccinium
With its boxwood-like foliage, Blueberry Glaze® is a treat unlike any other! In spring, white flowers ripen into a dramatic display of color as the berries turn yellow, to red, then a dark blue! The ripe fruit is packed with aromatic flavors and antioxidants. Perfect for patio pots or the landscape. Recommended chill: 600 hours.
Deciduous
Moderate growing, compact, mounded shrub; reaches 2 to 3 ft. tall and wide
Partial to full sun
Flavorful Midsummer Berries
---
Pink Icing™ Blueberry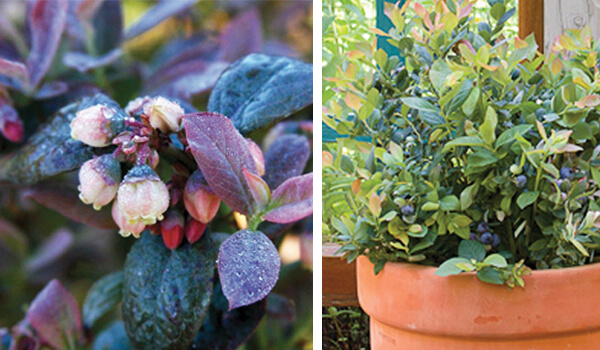 Vaccinium corymbosum
Pink Icing™ has breathtaking foliage colors and large, robust flavored berries. Spring foliage has many shades of pink mixed with blue and deep greens, and turns a stunning iridescent turquoise blue in winter. Plant this variety in decorative patio pots or in the landscape for year-round color and beauty.
Semi-evergreen
Partial to full sun
Mounded, slightly spreading form; reaches 3 to 4 ft. tall and wide
---
Sunshine Blue Blueberry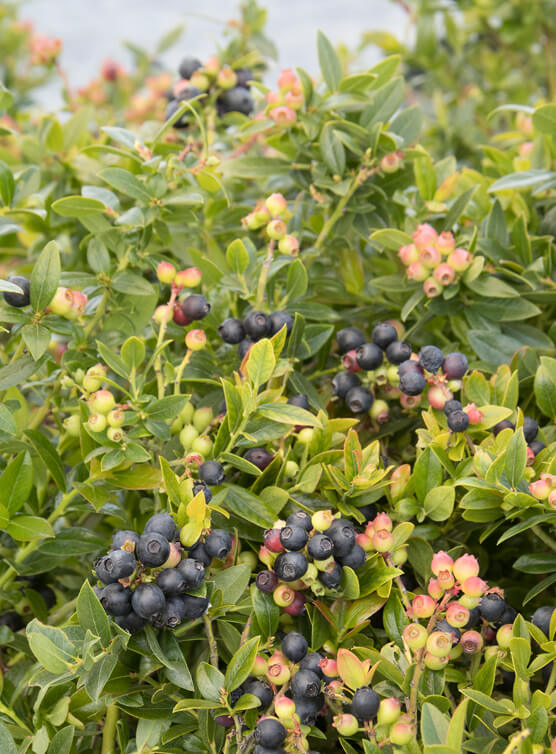 Vaccinium x 'Sunshine Blue' (Southern Highbush)
One of the best for mild-winter areas, a low-chill selection perfect for small gardens or large patio tubs. Blue-green foliage and showy pink to white flowers provide ornamental value, followed by an abundant crop of fruit.
Self-fruiting, but yields best when planted with another variety.
Recommended winter chill: 150 hours
Deciduous
Full sun
Moderate growing, semi-dwarf shrub; reaches 3 to 4 ft. tall and wide
---
Jubilee Blueberries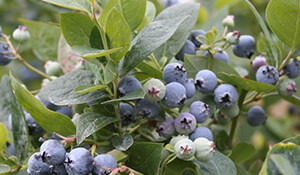 Vaccinium corymbosum 'Jubilee'
This early/midseason selection offers medium-sized, sky-blue, very sweet berries, with a moderately low chill requirement and good heat tolerance. Handsome blue-green foliage with bright red-orange fall color, on an upright, spreading form.
Full Sun
Recommended winter chill: 500 hours
Moderate growing; reaches 4 to 6 ft. tall and wide
Great for Borders, Containers, Kitchen Gardens, Mass Plantings
---
Jelly Bean® Blueberry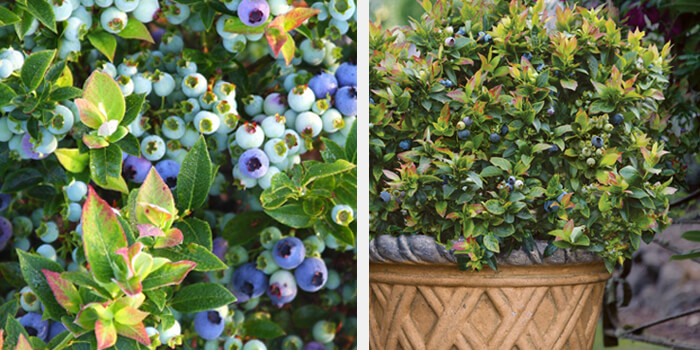 Vaccinium corymbosum
Jelly Bean® has large, flavorful blueberries that taste like sweet homemade blueberry jelly. The foliage has unique, elongated green leaves with highlights of red in cooler climates. Try a mini-hedge along a pathway, in the landscape or in decorative patio containers.
Partial to Full Sun
Recommended winter chill: 1,000 hours
Moderate growing; reaches only 1 to 2 ft. tall and wide
Great for Border, Container, Hedge, Kitchen Garden, Urban Garden
---
Southmoon Blueberry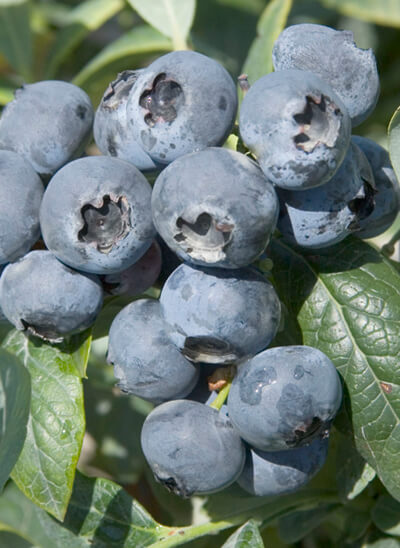 Vaccinium x 'Southmoon'
Delicious, large, sky blue berries ripen in early summer. A highly productive, early-fruiting blueberry for areas that receive as few as 500 hours of winter chill. The olive green foliage and white bell-shaped flowers provide ornamental interest in the landscape. Works well for a shrub border or as a container specimen.
Full Sun
Moderately vigorous, upright shrub; reaches 6 ft. tall and wide
Great for Border, Container, Hedge, Kitchen Garde, Mass Planting, Urban Garden
---
Pink Popcorn Blueberry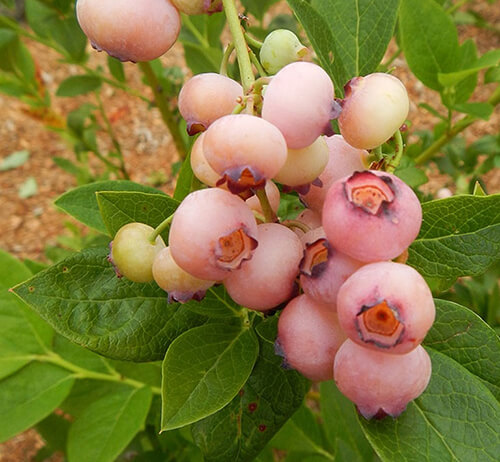 Pink Popcorn Blueberry is a hardy northern high bush blueberry is a more compact grower than other varieties, and bears pink fruit that ripens very early and continues until to midseason. The medium sized, cream to pink berries have a darker pink blush, and offer true blueberry flavor and aroma.
At a mature size of 5'H x 5'W
Pink Popcorn® is self fertile
Compact grower
---
Pink Lemonade Blueberry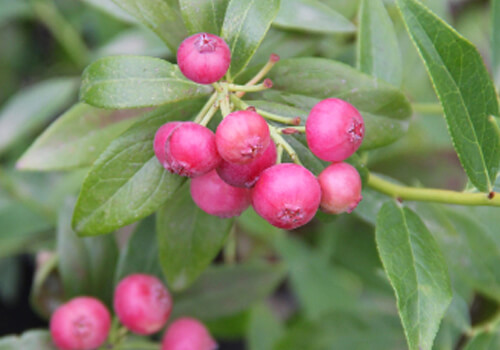 Vaccinium 'Pink Lemonade' In spring pinkish-white blooms develop into deep pink fruit ready for picking and eating at summer's end. These berries are just as tasty and rich in antioxidants as their blue counterparts, but guaranteed to start a conversation. The medium-size fruit with pleasant flavor and a high sugar content are perfect for fresh eating and baking. Self-pollinating too. But that's not all – blueberries make excellent ornamental shrubs, with fantastic fall foliage that is semi-evergreen in temperate places.
Full Sun
Grows 4 to 5 ft. tall and wide
---
Blueberry Bluecrop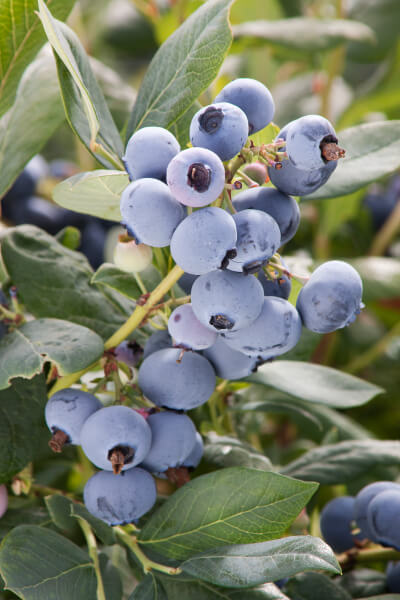 Vaccinium Corymbosum sp.A Northern Highbush considered the best all around variety for adaptability, long production period, high yield fruit and disease resistance. Bluecrop is perhaps the most widely planted variety in the U.S. Good for eating fresh, preserving, baking, and freezing.
reaching 4-6' tall
Medium to large fruit
---
O'Neal Early Season Blueberry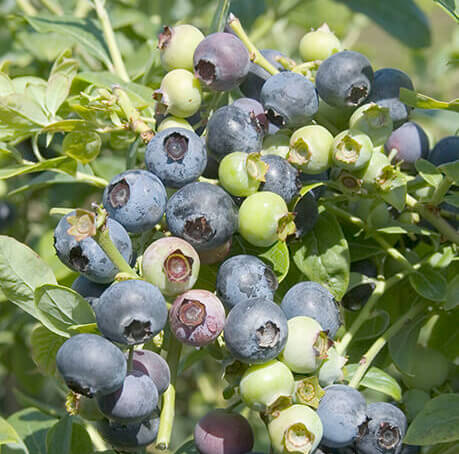 Vaccinium x 'O'Neal' Often considered to have the best flavor of the Southern Highbush varieties, with large dark blue fruit that matures very early and for an extensive season. A self-fertile variety that needs only 400 hours of winter chill to bear fruit. Attractive gray-green foliage remains evergreen in mild winters; turns brilliant red before falling in colder climates.
Full Sun
Moderate growing; rounded, spreading form reaches 5 ft. tall, 6 ft. wide.
Great for Border, Container, Kitchen Garden, Mass Planting
---
Spartan Blueberry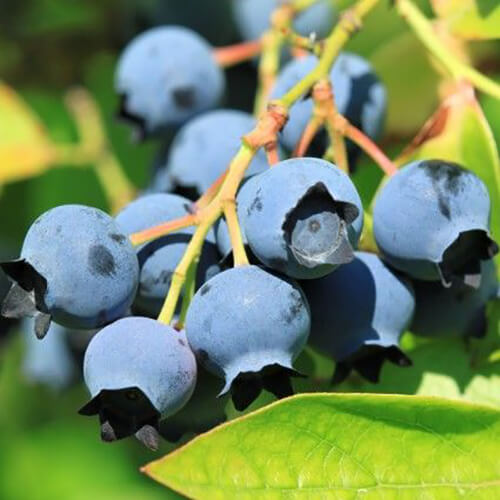 Exceptionally attractive and tasty fruit is often larger than a quarter in size with a tangy sweet flavor; ripens mid-July. Large, glossy-green foliage becomes orange and yellow in fall. Small white, bell-shaped flowers proceed the berries.
Full Sun
Moderate-growing, uprught shrub 5 to 6 ft. tall, 4 to 5 ft. wide.
Great for Firescaping/Fire Wise, Very Wet Areas, Woodland Garden
---
Sharpblue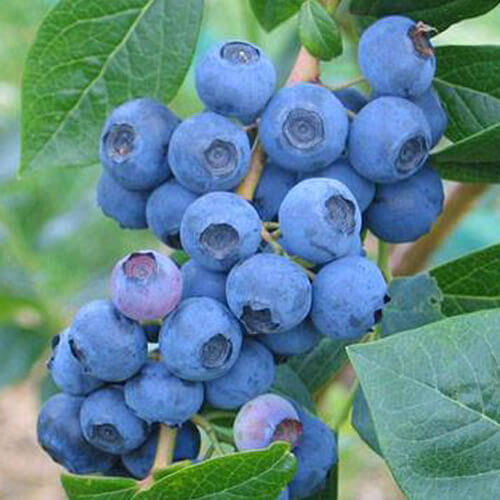 Considered one of the best varieties for Southern regions. Produces well in areas that receive only 200 hours of winter chill. Remaining nearly evergreen in mild climates, this attractive, upright shrub produces early in the season, often continuing to bloom and set excellent dark blue, medium-sized fruit over an extended period.
Full Sun
5 to 6 ft. tall and wide
Great for Firescaping/Fire Wise, Very Wet Areas, Wildlife Garden, Woodland Garden
Blueberry Care
Provide rich, acidic, well-drained soil. Water deeply and regularly during first growing season to establish an extensive root system. In extremely hot, arid summer areas, best with some shelter from harsh, reflected afternoon sun. Before new growth begins, prune off twiggy growth, leaving only main stems to prevent overbearing.
At SummerWinds Nursery, We Guarantee Success!