Discover which plants attract Hummingbirds
Attractive Plants With A Purpose...
When designing your hummingbird garden it is important to select the right plants to attract these beautiful birds. There are a wide variety of options for hummingbird plants including a hummingbird bush or a hummingbird vine. All of the plants that attract hummingbirds produce beautiful hummingbird flowers throughout the year. In addition to selecting the right plants for your hummingbird habitat, you will also need a hummingbird feeder.
When selecting a location for your hummingbird plants, keep in mind that they often do best in areas with full sun and well-drained soil, though some varieties prefer partial sun to shade. No matter what you choose to add to your hummingbird garden, you will enjoy beautiful and vibrant foliage throughout the year.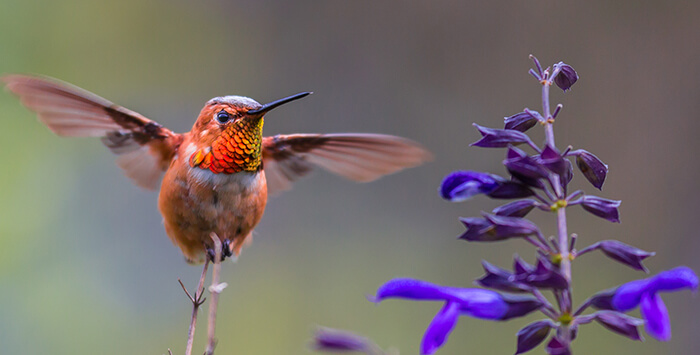 Plant Facts:
Type: Perennials
Height: Varies by type
Bloom Time: Spring to Fall
Sun-Shade: Full Sun to Shade
Soil Condition: Well drained soil
Maintenance: Low Maintenance
Below is a list of the more popular plants that attract hummingbirds in the Bay Area: Please Note: Not all plants are available at all times of the year. Selection may vary by location. For availability, please contact the SummerWinds locations nearest you.

Full Sun
California Fuchsia (Epilobium canum)
All Salvia (Salvia divinorum)
Salvia Gregii
Salvia Leucantha
Manzanita (Arctostaphylos uva-ursi)
Citrus – Orange and Lemon
Beardtongue (Penstemon)
Mock Orange (Philadelphus 'Belle Etoile')
Rosemary (Rosmarinus officinalis)
Licorice Mint Hyssop (agastache rupestris)
Desert Willow (Chilopsis linearis)
Bottlebrush (Callistemon)
Bee Balm (Monarda)
Hummingbird Sage (Salvia spathacea)
Butterfly Bush (Buddleia)
Catmint (Nepeta x faassenii)
Blue Sage (Salvia clevelandii)
Larkspur – Delphinium
Foxgloves (Digitalis)
Lilies (Lilium)
Pentas
Red Hot Poker (Kniphofia)
Scarlet Sage (Salvia cocinea)
Tobacco Plant (Nicotiana tabacum)
Summer Phlox (Phlox paniculata)
Weigela
Rocktrumpet (Mandevilla)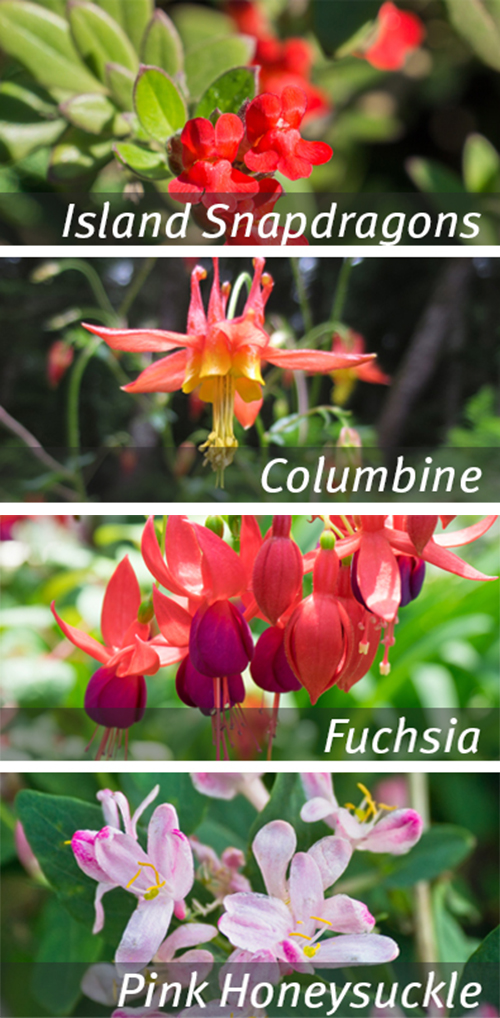 Part Sun To Shade
Island Snapdragon (Galvezia speciosa)
Fuchsia-Flowering Gooseberry (Ribes speciosum)
California Huckleberry (Vaccinium ovatum)
Western Columbine (Aquilegia Formosa)
Sasanqua Camellia (Camellia Sasanqua)
Pink Honeysuckle (Lonicera hispidula)
Fuchsia (Fuchsia hybrida)
California's Hummingbirds
For a list of hummingbirds in the Bay area, visit our friends at Audubon California, http://ca.audubon.org/
At SummerWinds Nursery, our Trusted Garden Advisors can help you select the best plants to make the most of your hummingbird habitat. We pride ourselves on exceptional customer service, our knowledgeable staff and the highest quality plants. With the right guide, you will have a thriving hummingbird garden in no time at all!
Visit your local SummerWinds, where We Guarantee Success!