Ultra Violet - Color Of The Year In Plants

Ready to introduce the color of the year into your California Landscape?
---
It's "a dramatically provocative and thoughtful purple shade," Pantone says, one that "communicates originality, ingenuity, and visionary thinking that points us towards the future."
It's "the most complex of all colors," Leatrice Eiseman, the institute's executive director, told The New York Times in an article in the Fashion and Style section published Thursday. "Because it takes two shades that are seemingly diametrically opposed — blue and red — and brings them together to create something new."
While complex to create in textiles, nature has so graciously produced many extraordinary plants that beautifully and naturally reflect the color of the year, Ultra Violet…
10 Stunning Plants with Ultra Violet Flare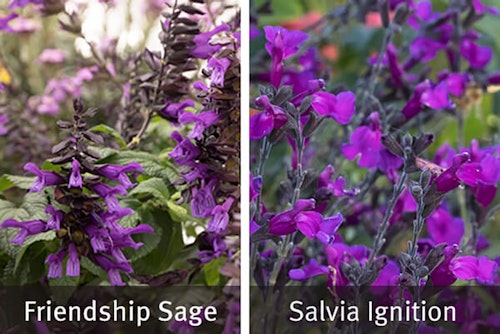 1. Salvia
While many varieties of salvia show off their Ultra Violet blooms, we've chosen Friendship Sage - Salvia x 'Amistad' and Plant and Vibe® Ignition Purple Salvia - Salvia x jamensis 'Ignition Purple' to share with you.
Friendship Salge is an exciting herbaceous perennial and a true garden gem. It blooms non-stop from early spring until frost. Large, deep royal purple flowers with dark bracts, on dense, vigorous plants. A fine garden or container accent, but stunning when massed in a sunny border.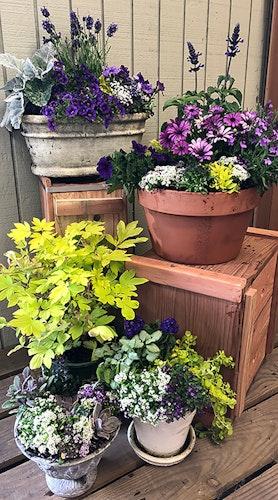 Vibe® Ignition Purple Salvia is notably heat and drought tolerant. This petite sage explodes with dark purple buds that open to vibrant purple flowers throughout summer. One of the most humidity tolerant varieties of its type. Add to summer garden borders, wildlife or cutting gardens, or feature in containers.
Salvia is easily grown in average, well-drained soils. Clip spent flowers to promote continued bloom. Fertilize and hard prune to 3 or 4 inches above the ground before new growth appears in early spring.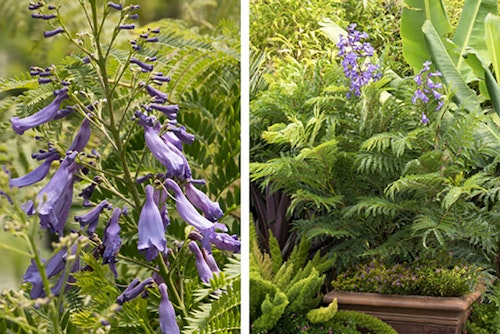 2. Jacaranda Bonsai Blue
Jacaranda mimosifolia - A truly dwarf Jacaranda with showy, large, deep purple, tubular flowers. An ideal small specimen tree for today's smaller gardens, equally useful as a large border accent or in decorative pots on a terrace or patio. Bright green, fern-like foliage takes well to pruning, is remarkably heat and drought tolerant and makes a stunning contrast to the Ultra Violet blooms. Semi-evergreen. Quickly reaches 10 to 12 ft. tall, 6 to 8 ft. wide.
---
3. Impatiens
While these lovely little plants come in an array of colors, only one can pull off the color of the year. Extremely versatile, impatiens look great in containers, hanging baskets, along borders and in mass plantings.
---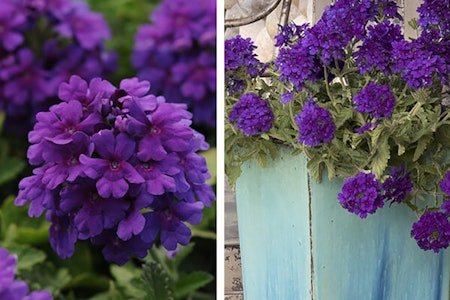 4. Garden Verbena
Verbena canadensis - Large, fragrant flower clusters top ground hugging stems with attractive toothed foliage. Excellent colorful dense groundcover or foreground plant. Blooms over long period. This perennial reaches 6 - 12 in. tall, spreading 24 - 36 in. wide.
---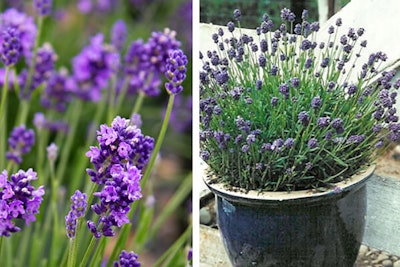 5. Lavender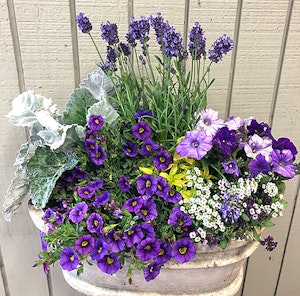 This plant simply embodies Pantone's Color of the Year. With dollops of purple that appear as it blooms, and the calming fragrance of this hardy plant, make it the perfect landscape accent, in borders, rock gardens or patio containers.
---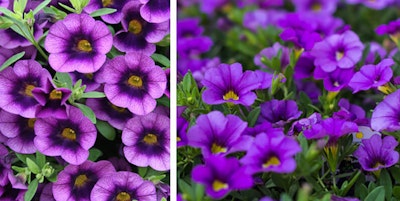 6. Million Bells
Calibrachoa - This is another lovely plant that comes in an array of colors but the purple Calibrachoa is by far a favorite. With shouts of small purple blooms that appear time and time again with little to no deadheading, these look amazing in containers and in mass plantings. They thrive in sun and heat.
---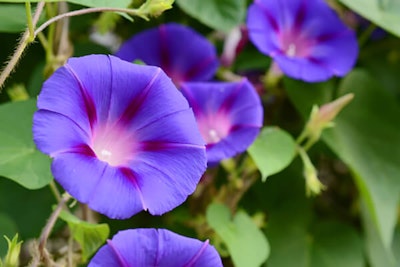 7. Ipomea
If you are looking for a subtle yet stunning touches of the Ultra Violet color, Ipomea may be just what you are looking for. Excellent fast-growing bank or slope cover with dark green leaves and large violet blue flowers. Quickly covers an unsightly fence, pole or a wall. Trailing stems that root along the way can be allowed to sprawl for a fast ground cover.
---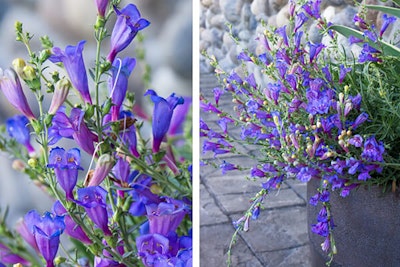 8. Margarita BOP Beardtongue
Penstemon heterophyllus 'Margarita BOP' - Foot long spikes of yellow tinged buds open to violet blue flowers in spring through fall. Narrow, deep green leaves contrast well with the bloom. Makes a great addition to rock gardens as well as low water use borders and beds. Fast growing, 2 ft. tall and wide.
---
9. Blue Storm™ Lily of the Nile
Agapanthus praecox ssp. - Beautiful clusters of periwinkle flowers on a rugged intermediate-sized plant. Healthy, green bladed foliage forms a dense clump. Bell-shaped flowers bloom on short, sturdy stalks. Excellent for containers and as edging. Highly adaptable to wet or dry conditions when established, ideal for warm and dry or tropical areas. Evergreen. Partial to full sun Quickly reaches 12 in. tall, 20 in. wide; blooms reach 30 in. tall.
---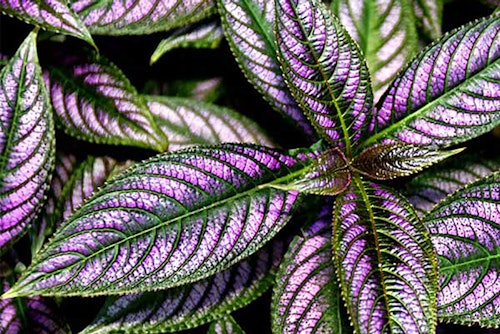 10. Persian Shield
Strobilanthes - The iridescent, colorful leaves of purple, green and silver will look shimmery all season long. Strobilanthes will grow in full sun but seems happiest where it receives some afternoon shade. Provides great height for containers. Pale blue flowers are occasionally produced on short spikes in late summer but attract little notice.
---
Companion plants

A few plants that will accentuate and never upstage your Ultra Violet plants are FeverFew, Ferns like Foxtail fern, White Alyssum, Creeping Jenny and as always, Succulents.
---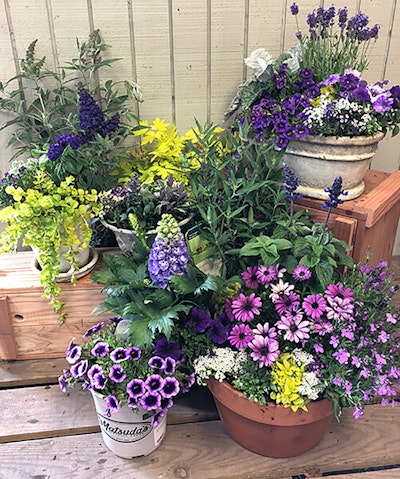 Ultra Violet Custom Creations
We asked Joni, one of our talented container garden experts and Consultant for her own business, Bloomin' Crazy by Joni Holland to create a few Ultra Violet inspirations (shown here) utlilizing the lovely plants mentioned above and more.
We'd love to see what you do in your California Landscape with the color of the year. Share with us on Facebook or Instagram with #PantoneColorOfTheYear
How to Decorate with the 2018 Pantone Color of the Year: Ultra Violet. Fans of purple hues rejoice and follow these 10 rules to decorate with the 2018 Pantone Color of the Year – Ultra Violet
Better Homes & Gardens offers - 12 Electrifying Ways to Decorate with the Pantone Color of the Year 2018