8 Plants That Like It Hot
With the heat of summer coming on, there are some plants that just can't hang but we have a list of 8 plants that not only LOVE the heat, they look amazing in it.
8 Heat Loving Plants
1. Lavender

You may know lavender by its scent, but that's only one of this herb's endearing qualities. Lavender plantis easy to grow, it thrives in heat and well-draining soil, requires little in the way of pest control, fertilizer, and, once established, is water-wise. Its scent is soothing, which is why its essential oil is a prized ingredient in many aromatherapy products, such as lotions and candles. And you can even cook with lavender flowers. Varieties Include: English Lavender - Lavendula angustifolia, Lavendula Meerlo Sunset (a beautiful variegated variety), Low H20 Lavender, Hidcote and more. Selection may vary by location.
For more information on Lavender, click here
2. Hibiscus

If you're looking for stunning tropical flowers, Hibiscus is for you. It thrives in well-drained, enriched soils with neutral to slightly acidic pH. Water deeply and regularly during the first growing season to establish an extensive root system; reduce frequency once established. Apply a general fertilizer before new growth begins in spring. For a formal appearance, prune annually after flowering.Pruning time: spring. Varieties Include: Crown of Bohemia, The Path, Red Dragon, Fiesta, Erin Rachel, Fullmoon and more. Selection may vary by location.
3. Cordylines

Thrives in average to enriched, well-drained soils. Water regularly during first growing season to develop an extensive root system. Tolerates mild drought when established in mild coastal settings; water container plants when soil surface becomes dry. Likely root hardy to 15°F. Feed with a slow-release fertilizer in spring. Varieties Include: Electric Flash, Electric Pink, Electric Star, Festival Grass, Pink Passion and more. Selection may vary by location.
4. Loropetalum

Also known as Chinese fringe-flower, offers clusters of rich, pink, fringed flowers bloom repeatedly throughout the year. The showy deep burgundy foliage matures to a lovely bronze-green, maintaining a purple tinge as it as it ages, creating a colorful year-round accent to the landscape. This particular variety is a Sizzling Pink Fringe from Monrovia and it looks great in containers, as a specimen plant in groupings or as a border shrub.
5. Lantana

A showy, heat and drought tolerant shrub with large, bright colors of flower clusters. The tidy, mounded, trailing habit works well for borders, containers, or mass plantings. Produces virtually no seeds, saving energy for a constant show of blooms. Thrives in average, well-drained soils. Water deeply, regularly in first growing season. Once established in the landscape, reduce frequency; water potted plants when soil surface becomes dry.
6. Salvia
Salvia is a must have for California Landscapes. They are drought tolerant, hardy, attractive to pollinators and beautiful too. Varieties Include: Friendship Sage or Amistad, Victoria Blue, Amethyst Lips.
7. Rosemary

Rosemary definitely has it's place in dishes but it simply looks incredible and smells great in your landscape. Trailing Rosemary from rocks looks and smells incredible and plays right into a Mediterranean theme.
8. Bougainvillea

A wonderful compact, upright and spreading form that works well in planter boxes, and on fences and arbors. Colorful waterwise vine that loves full sun. It can be grown in a container with support or allowed to drape over the side for an exotic look. Plant on banks and slopes for an avalanche of color or allow to drape over the edge of retaining walls. The two Bougainvilleas pictured are Monrovia's Purple Queen® Bougainvillea (photo credit: Doreen Wynja) and Monrovia's Rosenka Bougainvillea (photo credit: David Fenton)
---
The Essentials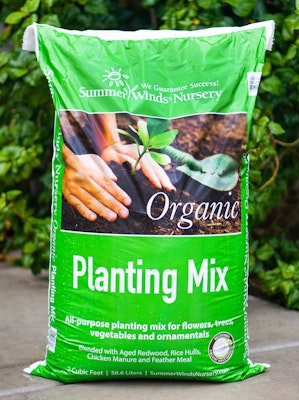 SummerWinds Planting Mix
2 cuft. Bag - This all-purpose natural and Organic transplanting mix is ideal for all types of flowers, vegetables and ornamentals, including annuals, perennials, ground covers, shrubs, fruit and shade trees.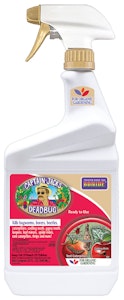 Captain Jack's Deadbug Brew
32 oz. RTU - The product contains a naturally occurring bacteria that when eaten by insects, kills them. It kills bagworms, borers, beetles, caterpillars, codling moth, gypsy moth, loopers, leaf miners, spider mites, tent caterpillars, thrips and more!
For additional information on how your success begins with great soil... Learn More
---
Sources: Monrovia.com and Sunset.com