Color That Lasts and Lasts and...

---
While we welcome the cooler temps and lovely fall colors, there is nothing prettier than little pops of color mixed in. When those temps cool and fall rolls around, we bring in tons of those little pops of color. Stop by and see how vibrant the nursery looks.
Here are a few hardy varieties that will kick your fall landscape up a notch...
4-inch Cyclamen
Hardy cyclamen lights up the garden with showy mounds of silvery-white foliage and heart-shaped leaves that appear in autumn and last until the plant goes dormant in late spring.
Although this woodland plant looks delicate, hardy cyclamen is vigorous and easy to grow. Care of hardy cyclamen is simple and the plants require minimal maintenance to look their best.
Hardy cyclamen grows in nearly any type of loose, well-drained soil. Dig a few inches of mulch, compost, or other organic matter into the soil before planting.
Brush excessive leaves and debris from the plant in autumn. Although a light layer of mulch or leaves protects the roots from winter cold, too much cover prevents the plants from getting light.

Primroses
They are suitable for use in garden beds and borders as well as in containers or for naturalizing areas of the lawn. In fact, when given the proper growing conditions, these vigorous plants will multiply each year, adding stunning colors to the landscape.
Growing primrose is easy, as these plants are quite hardy and adaptable. Primrose perennials should be planted in lightly shaded areas with well-drained soil, preferably amended with organic matter. Set primrose plants about 6 to 12 inches apart and 4 to 6 inches deep. Water thoroughly after planting.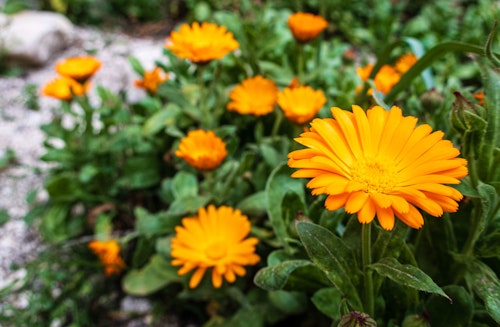 Calendula
Bright yellow and orange flowers, historically used for medicinal and culinary purposes, result from easy calendula care when growing this simple flower. Commonly called the pot marigold (Calendula officinalis), the calendula flower has long been a staple in British cottage gardens.

Calendula plants are frost tolerant and somewhat cold hardy and add long-lasting color and beauty in a flowerbed or container.

In warmer areas, the calendula may take a break from blooming during summer heat and then put on a show as temperatures fall in autumn. Regular pinching keeps the 1- to 3-foot plant bushy and prevents tall, spindly stalks.

Pansies and Violas
Pansies are old-fashioned favorite flowers that are always popular. Learn how to select pansy flowers, including ever-popular purple pansies. Get the basics on pansy care, including how to grow pansies with other flowers.

The bonus for keeping them around is that the spring bloom is usually much more robust when the plants have been in the ground since fall.

Perfect partner to the marigold.
---

No matter how you say it, we have incredible Fall color in-store.
Whether you want to decorate your porch, front door, patio, container gardens or more, we have the plants, and pottery to dress any area of your home.
Lovely in any order...

---
Sources: