Plants We Know You'll Fall For
Plants We Think You'll FALL For...
As a new season approaches, it stirs up excitement for cooler temperatures, and fall colors. We have a lovely and captivating selection of fall color to add to your containers. Please note - not all varieties are available at all locations.
---
10 Fall Container Plants
---
1. Rudbeckia
Available in many different varieties, these dynamic daisy-like flowers bloom summer through fall. The dense, multi-branched plant with lush green foliage and a profusion of charming, colorful blooms is just what is needed to brighten a border, bed, or container. An herbaceous perennial.
Light Requirements:

Full Sun
Water:

Water regularly - weekly, or more often in extreme heat or containers
---
2. Lamium

Lamium - Silvery-white leaves with green edges form a lush groundcover atop which appear small pale pink or purple flowers. Brightens shady areas in hotter climates or good for full sun elsewhere. Trail from mixed perennial containers or edge perennial borders.
Fast growing to 6 to 12 in. tall, 18 to 24 in. wide
Ideal for borders, ground cover, water gardens and woodland gardens
---
3. Blueberries

Perhpas this isn't one that comes to mind when thinking of fall color but the blue green foliage color make them a stunning and complimentary plant to other fall colors. They are ideal for containers, hedges, very wet areas and woodland gardens
Southmoon Blueberry
Vaccinium x 'Southmoon' - Delicious, large, sky blue berries ripen in early summer. A highly productive, early-fruiting blueberry for areas that receive as few as 500 hours of winter chill. The olive green foliage and white bell-shaped flowers provide ornamental interest in the landscape.
Upright shrub reaches 6 ft. tall and wide.
Full sun
Bird Friendly, Easy Care, Edible, and Low Chill Requirement
Bountiful Blue® Blueberry
Vaccinium corymbosum - An award winning variety with the bluest of foliage! Pink-blushed flowers produce a big crop of large, sweet, juicy berries on a compact, mounded shrub. Perfect for hedges or planting in large tubs. Self-fertile, though planting with another variety may increase yields. Needs only 150-200 winter chill hours. Semi-evergreen in mild climates.
Moderate growing; reaches 3 to 4 ft. tall and wide.
Compact Form, Dramatic Foliage Color, Easy Care, Edible, Fall Color, and Low Chill Requirement
---
4. Loropetalum
Ever Red® Fringe Flower

Loropetalum chinense 'Chang Nian Hong' - Vivid, deep red flowers combine with extremely dark burgundy foliage to create a stunning, compact shrub. An exceptional foundation plant or accent specimen. Use to create high contrast effects in beds and borders. Evergreen.
Moderate growing; reaches 6 ft. tall and wide in natural form
Ideal in borders, containers, privacy screens and specimen
Partial to full sun
Purple Pixie® Fringe Flower
Loropetalum chinense 'Peack' - Compact, weeping habit of rich purple foliage is the perfect backdrop for clusters of hot pink, fringe-like flowers that repeat throughout the year. A superb colorful accent in borders and containers. At home in Asian and contemporary gardens. Evergreen.
Reaches 1-2 ft. tall and 4-5 ft. wide
Heaviest in spring, repeating throughout the year
Partial to full sun
Ideal in containers and mass planting
---
5. Succulents
Succulents are some of the most versatile plants. They make a statement on their own or planted with other like-minded plants.
---
6. Heuchera
Heuchera, commonly called coral bells for the sprays of bright pink bell-like blooms they send up in the summer, are prized for their attractive foliage as well as their delicate blooms. Available in a plethora of colors, Huechera can used in mass planting in partially shady gardens.
---
7. Echinacea
Tolerant of poor soils and dry weather, this heat-resistant plant shows only minimal leaf-wilt under even the most arid conditions, according to Ohio State University. Bright green, hairy stems contrast with pink-lavender blooms and a central grouping of red-brown disc flowers make this species at once colorful and understated.
---
8. Mums
Chrysanthemum morifolium - are herbaceous perennial flowers from the Aster family, featuring the characteristic daisy-shaped flowers that come in an assortment of colors.
Soil: Rich, moist, well-drained
Sun: Full sun
---
9. Coleus
An ideal container "thriller" plant! The spectacular foliage of Coleus is just as stunning, if not more so than many of your favorite flowers!
Color Options: Available in intense shades of bronze, red, green, purple, neons like pink and chartreuse—the options are nearly limitless!
Care: Coleus thrive in a high-quality potting mix with good drainage and ample organic matter and can tolerate both sun and part shade. Keep soil evenly moist, and go easy on the fertilizer; too much can fade their incredible colors.
---
10. Euphorbia Firestick
These bold succulents grow in woody stalks that have branches which flare out and turn from green to red-orange. As a "thriller," growing firesticks in pots or containers is a great way to make a statement on your patio or around an entrance. Water firesticks very sparingly.
---
Add Fall Color With These Stunning Shrubs and Trees
---
Purple Hopseed Bush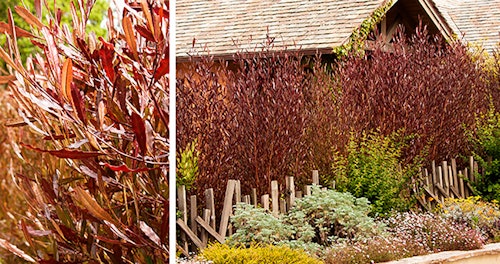 Dodonaea viscosa 'Purpurea' -A great show of color with bronze-green foliage that turns deep purple-red in fall. Pinkish fruit brightens the plant in summer. Dense branches can be trimmed as hedge or espalier; left unpruned, it makes a superb evergreen screen.
Fast growing; reaches 12 ft. tall, 6 to 8 ft. wide.
Ideal for borders, espalier, hedges, privacy screen, urban gardens, wildlife gardens and as a windbreak
Loves full sun and produces dramatic foliage color
---
Hamelia - Lime Sizzler™ Firebush
Enliven borders and patio containers with the fantastic green and yellow foliage and sizzling red-orange flowers of this exotic, mounding, semi-woody perennial. Particularly effective in mass plantings to create a swath of bright color, or as an accent tucked between plants with darker foliage. Use as a summer annual in colder regions.
Reaches 3 to 4 ft. tall and wide; 1 to 2 ft. when grown as an annual
Ideal for borders, containers, hedges, mass planting and poolside
Prefers partial to full sun
---
Viburnum
Brandywine™ Viburnum
Viburnum nudum - Experience the most beautiful berry display in the plant kingdom with this new Viburnum. It delivers loads of breathtaking berries that transform from green to shades of vivid pink and blue. A great companion pollinator for 'Winterthur' although Brandywine has good berry production even without another pollenizer nearby. Showy glossy leaves change to incredible dark maroon-red in autumn.
Ideal as a hedge, specimen, or mass planting
5 to 6 ft. tall and wide
Partial shade to full sun
David Viburnum
Viburnum davidii - A showy, low-growing, compact, evergreen to semi-evergreen shrub valued for its glossy dark green leaves and metallic turquoise blue fruit. Planting two or more plants will ensure good cross-pollination for consistent berry production. Use to create a low hedge or for a foundation shrub with ferns, azaleas and other acid-loving plants.
Ideal as a border, ground cover, hedge, specimen, urban garden, wildlife garden, or mass planting
Moderate growing; reaches 2 to 3 ft. tall, 3 to 4 ft. wide
Bird Friendly, Compact Form, Ornamental Berries, Year-round Interest
Partial shade to full sun
---
Diamond Height Ceanothus - Variegated Carmel Creeper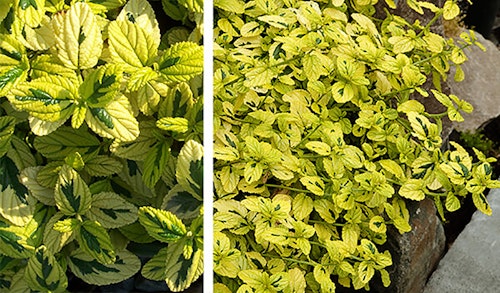 Ceanothus griseus var. horizontalis 'Diamond Heights' - A brightly colored, low-growing evergreen with exceptional chartreuse and dark green variegation, accented by clusters of pale blue spring flowers. The yellow tones dominate in warm weather, while the green dominates in cooler weather or shade. Takes cool coastal sunlight; site in bright shade in hot, inland regions.
Reaches only 1 ft. tall, spreading 4 to 5 ft. wide
Ideal for borders, containers, ground cover and mass planting
Partial to full sun
---
Japanese Maples
BloodGood Japanese Maple: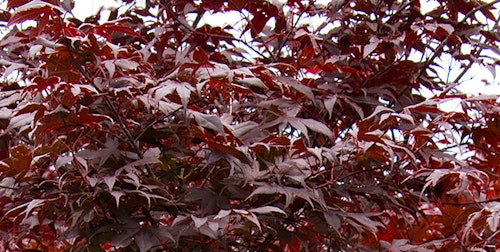 The blood good maple is a very hardy Japanese maple. Bright red foliage in the spring turns to a deep scarlet in the fall.
Botanical: Acer palmatum var. atropurpureum 'Bloodgood'
Type: Deciduous tree
Size: 15 – 20 ft. tall and wide
Sun-Shade: Filtered sun to full sun
Watering: Weekly watering, increase during warm months
Garden Uses: Small lawn tree, patios, entryways
---
Crimson Queen Japanese Maple: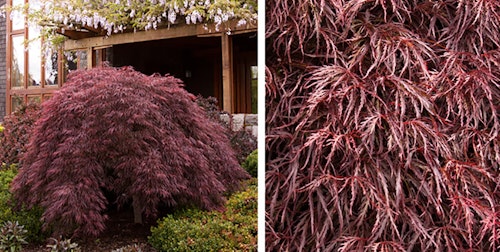 This dwarf Japanese maple has weeping branches that are a deep crimson in the summer which change to scarlet in the fall.
Botanical: Acer palmatum var. dissectum 'Crimson Queen'
Type: Deciduous plant
Size: 10 ft tall and wide
Sun-Shade: Morning sun, afternoon shade
Watering: Weekly deep watering, more frequently in summer heat
Garden Uses: Fire wise, poolside, woodland garden, specimen garden accent.
---
Shaina Japanese Maple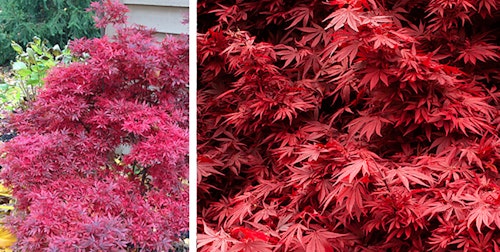 This dwarf Japanese maple is a compact, slow growing tree with bright red clusters of leaves.
Botanical: Acer palmatum 'Shaina'
Type: Deciduous tree
Size: 6ft – 8ft tall, 8ft – 10ft wide
Sun-Shade: Morning sun, afternoon shade
Watering: Deep, regular watering during warm months
Garden Uses: small lawn tree, patios, entryways
---
Ginko Trees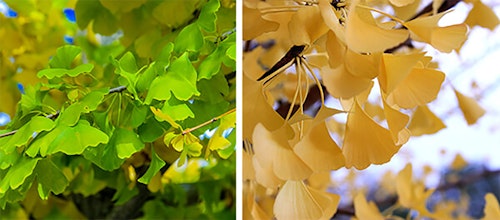 Gingko trees, also known as maidenhair, are deciduous, hardy shade trees with unique fan-shaped leaves that turn a lovely yellow color in the fall.
Drought and pest resistant
Long living and strong
Great shade and specimen trees
---
Sources: Monrovia.com