Container Gardening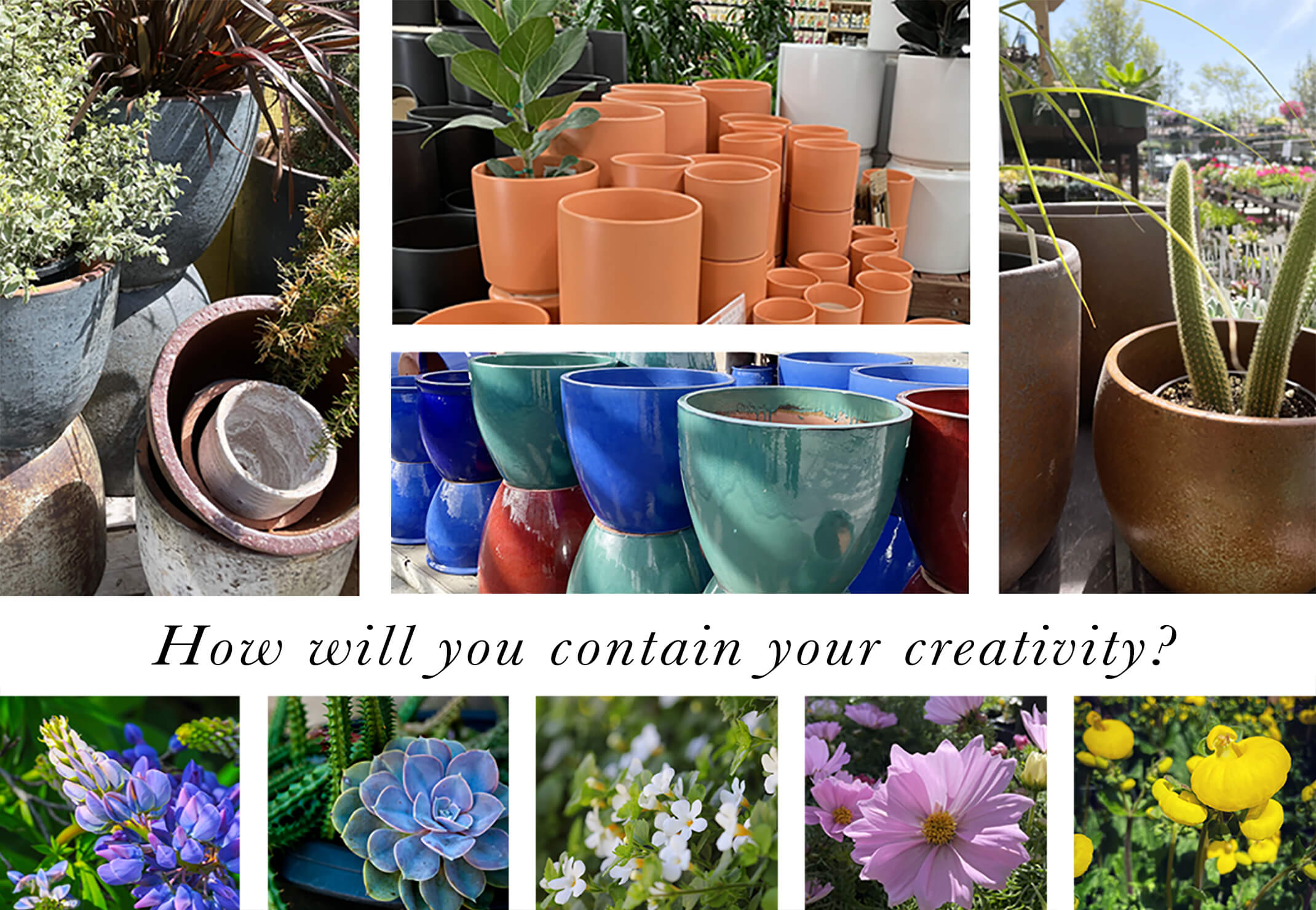 ---
8 Steps to Creating A Beautiful Flower Garden Container
1. Choosing The Right Container
Choosing a new container may seem as simple as "Oh, I like that one... let's get it." But there are some things you may want to consider.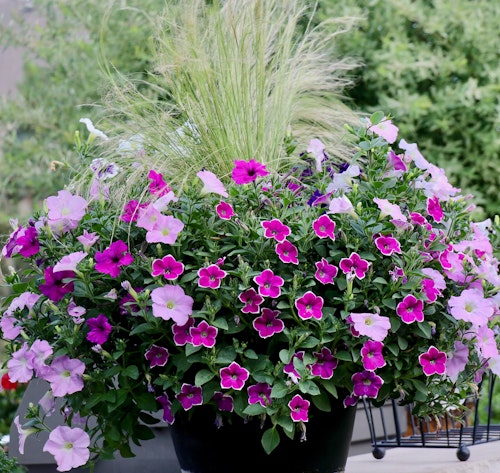 Drainage - it's important to make sure that your pot has adequate drainage holes. Too small or no drainage, may cause water to well up at the bottom and ultimately cause the roots of your plants to rot.
Porosity - porous containers such as those made from unglazed terracotta or clay, timber, paper pulp and other natural materials allow moisture and air to move through them. The key benefits with materials that 'breathe' is this allows air to circulate around plant roots and as the moisture evaporates out the side of the pot it cools the soil and helps draw excess water and prevents rotting.
Weight - Moist soil gets very heavy and if you choose a heavy container, this will make it harder to move it around. It's advisable to consider the total weight (soil + pot + plants + water) of each container. If mobility and changing the look of your garden on a regular basis is an important consideration, select containers made from lightweight materials or put them on castors before you plant them out.
Overall Size - a pot that's too small will almost always disappoint. At minimum, the container should accommodate a soil volume of at least half the size of the eventual volume of plants. This is important visually, as well.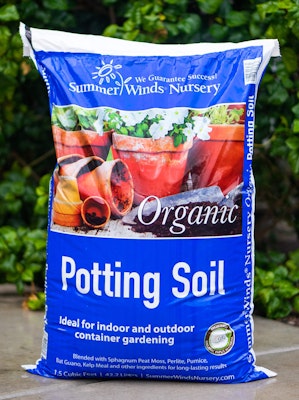 2. Success begins with the Soil
While soil from your garden may be readily available, it's not the best choice for your container gardens. We recommend SummerWinds Natural and Organic Potting Soil (developed with E.B. Stone Organics), developed for all indoor and outdoor container gardening.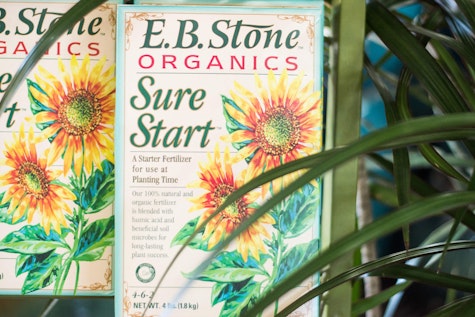 3. Fertilize to Boost
Anytime you repot or replant, there is always the stress of acclimating. The most foolproof method of fertilizing is to start with a slow-release granular fertilizer. We recommend E.B. Stone Organics – Sure Start. It is a 100% natural, organic fertilizer that is blended with humic acid and beneficial soil microbes, including mycorrhizae for long-lasting soil health and plant success.
And Now The Fun Part...
4. Choosing Your Plants
things you should consider prior to selecting them...
Location
Understanding the Rule of Thirds
Three Ingredient Recipe
Location–
When s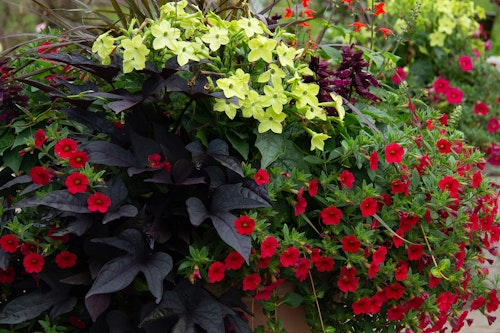 electing plants for your containers its important to choose plants that will thrive in the area where the container will reside. If the container is going to be in full sun, be sure to choose plants that do well in full sun. And of course, the same goes for containers that sit in shade. There are some beautiful plants to fit either occasion.
Utilize the Rule of Thirds -
The rule is based on an aesthetically pleasing to the eye compositional proportion. The rule can be used in one of two ways, each one opposite from the other. Starting with the container, visualize the overall look of the planting you desire according to your plants' eventual size. The container must take up either one-third or two-thirds of the eventual total height of the container and the plants together. And the plants must take up the remaining two-thirds or one-third, respectively, of the planting. If, for example, your pot is 2 feet tall, your plants' eventual height can either be 1 foot tall (which would have your planter being two-thirds of the overall height of 3 feet) or 4 feet tall (which would have your container being one-third of the overall height of 6 feet). So depending on which option you choose, will determine the plants you ultimately choose.
Simplified with a 3 Ingredient Recipe –
Ingredient #1: Thrillers - As the name implies, thrillers are the big, attention-getting star players. They are usually tall, upright plants, with outstanding qualities—such as colorful foliage, intriguing shape, or dramatic flowers—that last all season long. Many thrillers are architectural: plants with structural, eye-catching form that can serve as a sturdy backbone or rugged framework for a scrim of less substantial plants.

Thrillers work best in compositions where they are the tallest plan and the starting point in a container design. Select your thriller, and then build around it. At planting time, the thriller goes in the center of a pot that will be viewed from all sides or at the back of a pot that will be displayed in a corner or against a wall.
Ingredient #2: Fillers- Next, add the fillers—billowy, more finely textured plants that surround and weave through the thriller. Fillers add mass to the overall composition and, more important, establish a dialogue with the thriller. Fillers add a textural contrast or colorful counterpoint. In a monochromatic composition, they may simply echo the thriller, though with less saturated color or at a reduced scale. Since fillers are usually plants with a mounded silhouette, they also do just what the name implies: They fill up the pot while embracin
g the thriller. Often, they help by hiding the less interesting stems or stalks of the thriller. When potting, position the fillers around the thriller. You can use a mix of plants for this job: some with foliar interest, others with flowers.
Ingredient #3: Spiller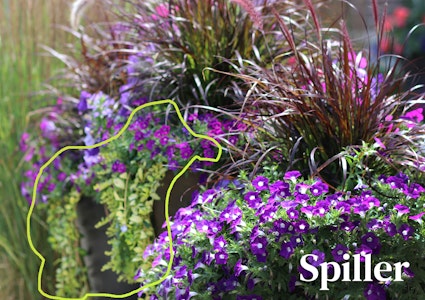 – These will anchor the pot. Look for spillers that echo or contrast with the pot's other plants by virtue of shape, color, or texture. The main role of a spiller is to sprawl over the side of the container, softening its edges and tumbling toward the ground. When parts of a container planting touch the earth, the pot looks rooted to its place.
5. Planting
Rather than filling the entire surface of the soil with plants when potting up your container, leave a couple of inches between each plant. This will give the plants a better chance of getting off to a good start.
6. Watering
A pot stuffed with lots of plants requires lots of attention. Water is often the biggest issue later in the season, once the plants become larger and more mature. A container that fully dries out one or more times during the season can take weeks to recover and, in many cases, may never reach its full potential. More important than the frequency of watering is how deeply you water. One way to ensure that you are watering thoroughly is to keep watering until water begins to drain freely out of the bottom of the container. If the soil in a container is extremely dry, however, water has a tendency to run off the surface of the soil and down the inside surface of the pot. In this case, water may be draining out of the pot, but the soil isn't truly getting wet, and you'll need to take special care to wet the soil thoroughly. Keep in mind that freshly planted containers use far less water than containers in the peak of summer. So adjust your watering habits to compensate for increased heat and plant sizes.
7. Continue Fertilizing
Fertilizing is every bit as important as watering, especially in the limited root space of a container. Once the fertilizer has been used up, the roots have nowhere else to get it, unlike garden-dwelling plants. If the plants need a boost during the season, you can apply an appropriate amount of smart release plant food. It's often necessary to add a few applications, especially in tightly planted containers. We recommend Osmocote Outdoor and Indoor Plant Food.
8. Tidy Up Your Containers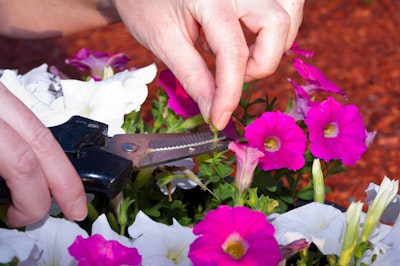 Once your container garden is full and thriving, it's important to regularly remove expired blooms and trim back leggy plants to encourage new growth. This therapeutic trim will keep your container garden looking its best.
---
Container Garden - Essentials
---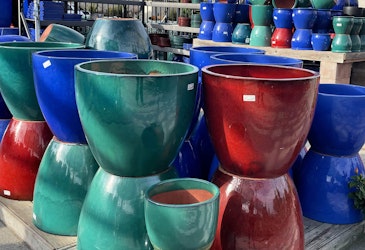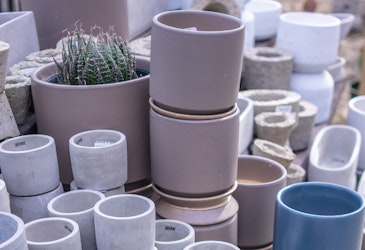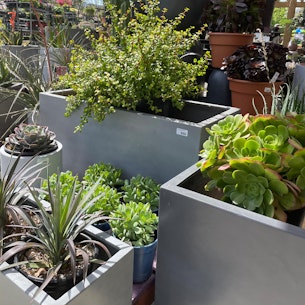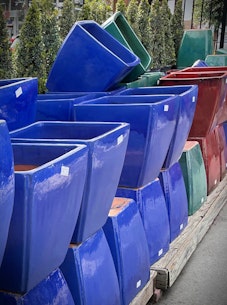 Pottery & Planters
We have a beautiful selection of outdoor and indoor pottery of various shapes, sizes and colors for your home. Above is just some of our incredible selection available.
---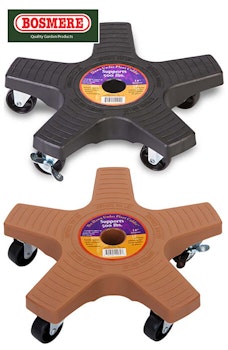 Bosmere Plant Caddie
Comes in Terra Cotta and Black
Available in 14", 16" and 20"
Makes moving those heavy pots around your deck, patio, carpet or wooden floors with ease
It has 5 high quality wheels and 1 locking caster to help keep your caddie in place
The hole in the middle of the Plant Caddie helps your pots and planters drain properly to maintain healthy plants
---
Success Starts With Great Soil!
---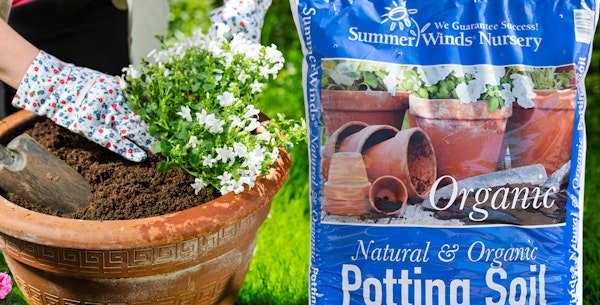 SummerWinds Potting Soil
The key to a successful container garden starts in the soil and our SummerWinds Potting Soil is formulated specifically for the Bay Area and contains only the best ingredients.
---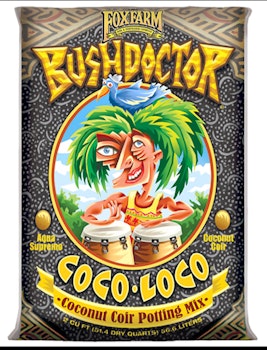 New at SummerWinds!
Bush Doctor® Coco Loco® Potting Mix
Plants growing in Coco Loco® by FoxFarm will not require water as often as your usual potting mix. Whether you're growing in hanging baskets, vertical gardens, containers, or seedling trays, extend your watering schedule. In most climates, every two to three days will be enough. Always adjust your watering schedule as needed. Triple washed to reduce salt content.
---
Make Watering Easier and More Efficient...
---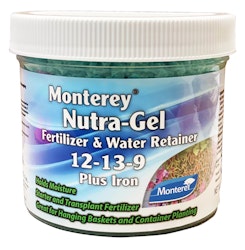 New at SummerWinds!
Monterey Nutra-Gel (12-13-9)
This unique fertilizer comes in granules that hold essential nutrients that assist in plant nutrition plus an absorbent to retain moisture. The gel alone can hold up to 200 times its own weight in water, which helps to retain moisture in the soil. Great for hanging baskets and container gardens!
---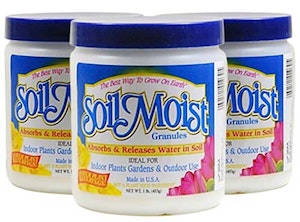 Soil Moist
Available in granules, this is a wonderful way to conserve water as it absorbs and releases water in the soil when needed. Ideal for indoor plants and outdoor.
---
Moisture Meter
This helpful little tool takes the guess work out of watering. It lets you know when your plants are dry or too wet so you can avoid root rot. This is a must for indoor plants and out.
---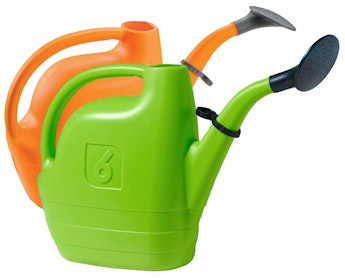 Crescent Watering Cans
Available in green and mandarin, these crescent watering cans are not only functional, they were designed ergonomically to make it easy to water your plants and enhance your gardening experience.
When It's Time To Feed Them
---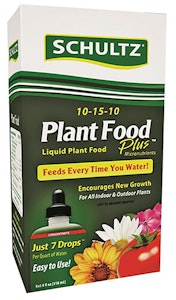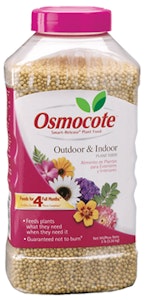 Schultz Plant Food
Plant Food Plus™ All Purpose Plant Food 10-15-10. Feeds Every Time You Water! Easy-to-use liquid plant food with micronutrients that encourages new growth for your indoor and outdoor plants, flowers and vegetables.
Osmocote Outdoor and Indoor Plant Food.
The original slow-release plant food - guaranteed not to burn. It provides continuous and consistent feeding up to four full months. Use when planting annuals and feeding container palnts for unmatched versatility.
---
Don't Forget To Protect Your Plants
---
Neem RTU
Neem Organic spray to use on Fruits, Nuts, Vegetables, Herbs, Spices, Roses, Houseplants, Flowers, Trees and Shrubs for both preventative measures and to rid your plants of any pests. It's an effective fungicide for the prevention and control of various fungal diseases including Powdery Mildew, Black Spot, Downy Mildew, Anthracnose, Rust, Leaf Spot, Botrytis, Needle Rust, Scab and others listed on label. As for pests, you can apply at the first sign of Insects/Mites. And for control of Aphids, Spider Mites, Scale, Whiteflies, Beetles, Leafrollers and others listed on the label. Neem is definitetly a must for your gardening belt.
---
Joni's Favorites
---
We are fortunate to have worked with one of the most talented container garden designers in the Bay Area, Joni Holland. She has created some of the most beautiful custom containers for years at Green Thumb Nursery in Los Gatos, for us at SummerWinds Nursery, and as a Garden Consultant for her own business, Bloomin' Crazy by Joni Holland. Joni was kind enough to share some of her favorite container garden plants with us...
Sun Container Gardens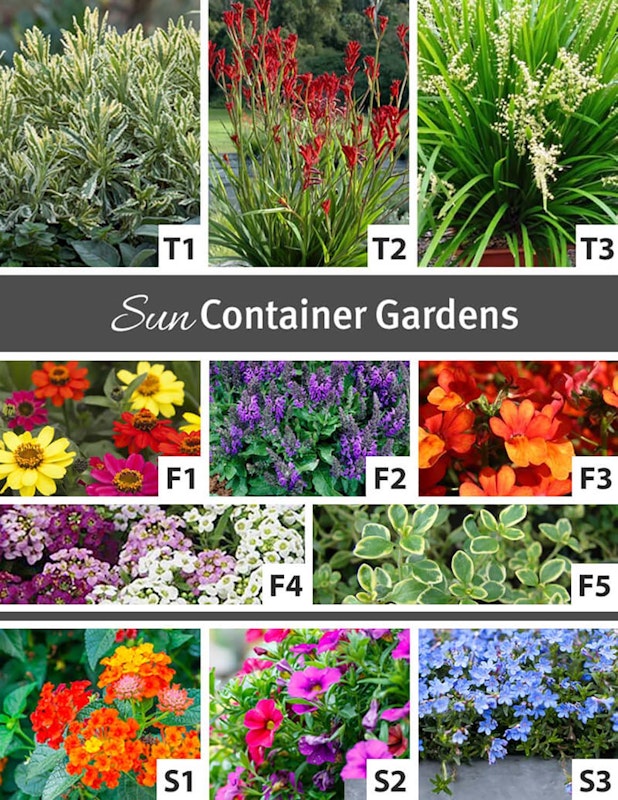 Thrillers
T1 - Lavender 'meerlo' or Lavender 'silver anouk'
T2 - Kangaroo Paws - Anigozanthos
T3 - Lomandra
Fillers
F1 - Profusion Zinnias
F2 - Salvia (low growing)
F3 - Nemesia Sunsations
F4 - Alyssum Wonderland
F5 - Lemon Thyme
Spillers
S1 - Lantana
S2 - Calibrachoa
S3 - Lobelia
---
Shade Container Gardens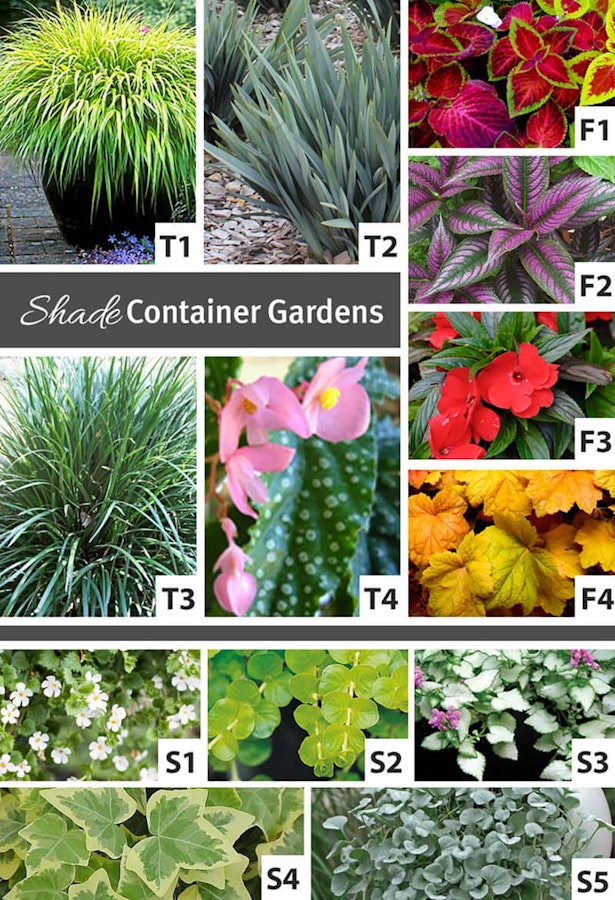 Thrillers
T1 - Hakonechloa 'all gold'
T2 - Dianella (any blue-gray one)
T3 - Liriope gigantea
T4 - Waxwing Begonia
Fillers
F1 - Coleus
F2 - Strobilanthes
F3 - New Guinea Impatiens
F4 - Heuchera
Spillers
S1 - Bacopa
S2 - Creeping Jenny
S3 - Lamium
S4 - Hedera Ivy 'gold child'
S5 - Dichondra 'silver falls'
Many of the plants listed above are specific varieties whereas the following are available in assorted colors and varieties: Heuchera, New Guinea Impatiens, Coleus, Lamium, Coleus, Lantana, Calibrachoa, Salvia, Lobelia and Lomandra. Not all varieties may be available at all locations.
---
Sources:
Stop in to your local SummerWinds Nursery today, were we guarantee success!