Warm Holiday Drinks with Cloves
Posted on: Friday, December 17, 2021
The holidays are the perfect time of year to incorporate cloves into your life! This spice is harvested from the clove tree's dried flower buds and is a delightful addition to sweet and savory meals; it is also coveted for its various properties such as its sharp flavor and fragrant aroma. For those who are looking forward to impressing friends and family, here are the top holiday drinks made with cloves that you can create at home!
Top Recipes for Homemade Holiday Drinks
1. Mulled Apple Cider
If you're looking for that fall/winter feel, treat yourself to a hot apple cider (shown above right). You can have your holiday drinks handled with this simple recipe. For a more homemade touch you can juice the apples yourself, but you can also use store-bought juice. This recipe can produce up to 12 servings that your guests will happily finish. For the 21 and over crowd, you can also add some rum for those who want a little extra cheer.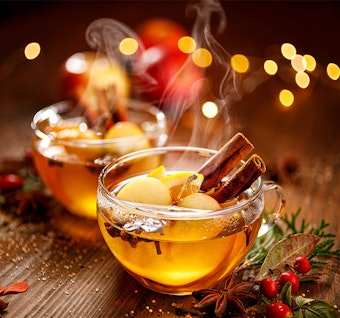 Here are the ingredients for you to add to your shopping cart (unless you grow them in your garden of course!) and you can find the instructions to make it in this Pioneer Woman blog post.
4 whole cinnamon sticks
1/8 teaspoon ground cloves
8 whole allspice berries
Orange peel from 1 orange
Lemon peel from 1 lemon
1/2 cup maple syrup
6 cups unfiltered or fresh squeezed apple juice
1/2 cup dark rum (optional)
---
2. Hot Toddy
Cloves can be pretty spectacular in alcoholic beverages, from hard apple cider to a hot toddy. Making these holiday drinks are the perfect way to warm up during the colder seasons and can even clear your sinuses from that winter cold from the first sip.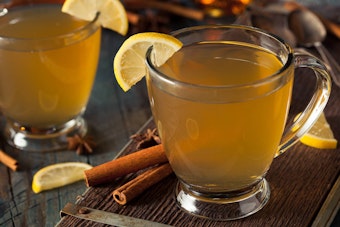 For a nice warm and boozy relaxing drink, try out Maxim's Castle Hot Toddy recipe to get you in that holiday spirit. Make sure you have these ingredients handy so your guests can rush you to pour them a mug.
1 oz Knappogue Castle 12-year-old Single Malt Irish Whiskey
1 oz Celtic Honey Liqueur
Lemon wheel
5-6 cloves
Hot water
---
3. Clove Tea Recipe
Not only are cloves easy to acquire, but they have health benefits for you too! If you're not a fan of alcohol, then this recipe is perfect for tea drinkers. Livestrong says cloves can help the body as an anti-inflammatory agent and are able to provide multiple nutrients like vitamin C, fiber, manganese and more. Make sure to eat them moderately because there is a possibility of side effects if you consume them in large doses.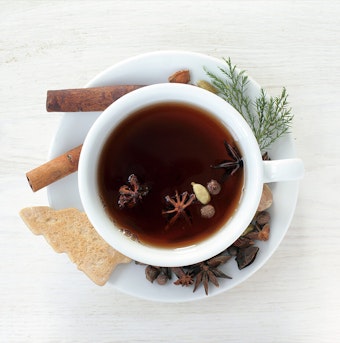 These ingredients are as raw as it gets, but you can always throw some sugar and honey in this recipe to your preferred taste.
1 cup hot water
1 Tbsp dried cloves
Spice grinder or mortar and pestle
Mesh strained
---
4.Clove Chai Tea Recipe
Quench your taste buds by making some holiday drinks that will satisfy your chai craving. Cloves may not be the only flavorful addition to this tea, but other strong ingredients such as ginger, cinnamon, nutmeg and cardamom are what really gives this drink a punch of flavor. Genius Kitchen's recipe mixes chai and clove tea recipes into one drink; below are the ingredients.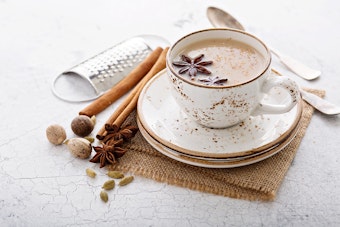 1 cup nonfat dry milk powder
1 cup non-dairy powdered coffee creamer
1 cup powdered French vanilla fat free non-dairy coffee creamer
2 1⁄2 cups white sugar
1 1⁄2 cups unsweetened instant tea
2 teaspoons ground ginger
2 teaspoons ground cinnamon
1 teaspoon ground cloves
1 teaspoon ground cardamom
1 teaspoon nutmeg
1 teaspoon allspice
1⁄4 teaspoon white pepper
½ cup of hot water/ ½ cup unsweetened coconut milk
For the clove tea:
1-quart water
1 Tablespoon whole cloves (freshly ground in a spice grinder or mortar and pestle)
Cloves are used to flavor hot drinks like ciders and wines, but they also appear in sweet and savory foods too. With their health benefits and various uses, this spice will never go out of style. Try these holiday drinks today and let us know how they went!