3 St. Paddy's Day Recipes with Green Garden Ingredients
Posted on: Monday, March 15, 2021
St Patrick's Day calls for all things green, and it's fun to whip out a few recipes that fit the theme for this Emerald Isle holiday. Now, If the idea of adding questionable amounts of green dye to your food doesn't exactly appeal to you (and really, we don't blame you), then you'll love these recipes! With garden fresh ingredients and no artificial colors, you can serve all-green food for St Patrick's Day that tastes great and looks the part.
---
Find These 3 Green St Patrick's Day Recipes Below:
Garlic Pesto Smashed Potatoes
Garden Mint Shamrock Shake
---

Garlic Pesto Smashed Potatoes
A true Irish celebration calls for a quality potato dish. This green pesto potato appetizer is perfect for bringing to a St Patrick's Day party! The crispy, bite-sized potatoes are smothered in a rich green pesto sauce bursting with fresh basil, garlic, and lemon. The aromatic garden herbs and zesty garlic bring so much flavor to this hearty root veggie.
Ingredients
2 cups of fresh basil leaves, loosely packed, rinsed with stems removed
3 tbsp walnuts or pine nuts
2–3 cloves garlic
2 tbsp lemon juice
olive oil
1½ tbsp fresh grated parmesan (substitute nutritional yeast for vegan alternative)
1½ lbs baby potatoes
Salt and pepper
Instructions
Preheat the oven to 450°F.
Rinse potatoes and boil for 15–20 minutes until fork-tender.
While the potatoes are boiling, prepare the pesto. Add the basil, garlic, nuts, parmesan, and lemon juice into a food processor and blend until smooth. While the food processor is running, drizzle in 2–3 tbsp of olive oil until you've reached a smooth consistency. Add salt and pepper if you like.
Line a baking sheet with parchment paper. Place the soft-cooked potatoes on the pan and squish them with the flat bottom of a small saucepan or mug. Drizzle the potatoes with oil, season with salt and pepper, then roast for 25 minutes.
Smear a spoonful of your green pesto sauce all over each potato, and they're ready to serve.
---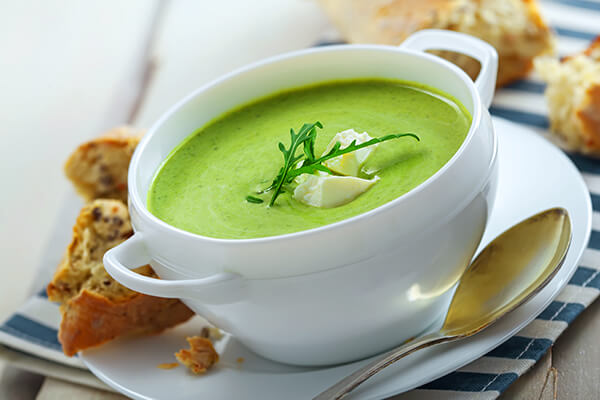 Gruyere Florentine Soup
Here's a mega-green St. Patrick's Day meal that kids and parents are both bound to love! The little ones get a kick out of its unexpectedly bright color, but thanks to some deliciously creamy Swiss Gruyere cheese, it's also a decadent comfort food that will have everyone reaching for seconds. This Florentine soup is definitely one of the easiest ways to get a massive helping of leafy greens!
Ingredients
1 medium onion, minced
3–4 cloves garlic, minced
1 medium russet potato, peeled and cut into 1–inch cubes
3 cups chicken or vegetable broth
8 cups spinach
2 tbsp salted butter
6 oz. shredded Gruyere cheese
Salt and pepper
Directions
In a large soup pot over medium heat, melt the butter and saute the onions until soft. Stir in the garlic and potato and stir for two minutes. Add the broth, then increase the heat to bring it to a boil. Sprinkle in some salt and pepper, reduce the heat and let simmer for 15 minutes until the potatoes are tender.
Stir in the spinach and cover the pot with a lid for a few minutes until the leaves are completely wilted. Use an immersion blender to blend the soup until smooth, which will turn the soup bright green. Be careful not to splash yourself—the soup is hot!
While stirring the soup, slowly sprinkle in the Gruyere until melted and completely integrated. Season to taste with salt and pepper, then serve with a sprinkle of gruyere on top and some warm bread for dunking.
---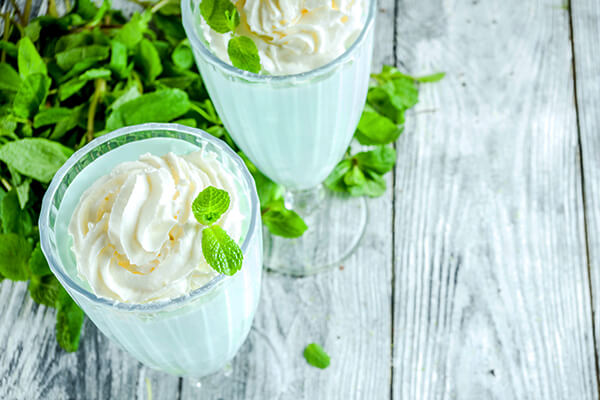 Garden Mint Shamrock Shake
The shamrock shake is an old classic we're always tempted to order from the McDonald's drive-thru every March. But we've gotta admit, this homemade version using fresh garden mint is a million times better! It's so simple to make, and it's kid- and adult-approved. The fresh mint mingles beautifully with cool vanilla bean ice cream!
Ingredients
15–20 fresh mint leaves (plus extra for garnish)
¾ cup milk
½ tsp real vanilla
2 cups vanilla bean ice cream
Whipped cream (optional)
Directions
Combine mint leaves, milk, and vanilla in a blender and blend until smooth.
Add ice cream and blend.
Do a taste test to see if you'd like it to be mintier and add more if you like.
Serve in a fancy glass, top with whipped cream, and garnish with a fresh mint leaf.
We hope you enjoy these tasty green snack ideas for St. Patrick's Day! For more holiday recipe ideas inspired by California gardens, follow the SummerWinds California blog to see our latest culinary creations.