6 Hanging Basket Ideas for Springtime
Posted on: Monday, March 29, 2021
Put a little sweetness into your springtime this year. Hanging baskets are a great way to add color and style to your outdoor space. Light your creative fire and fill a basket with your favorites! Keep reading for our top six hanging basket ideas that we think you'll love.
---
Get into the spring spirit by creating a hanging basket with all your favorite Easter themes.
---
1.The Best in Show
Coleus and geranium are a match made in heaven. Choose coleus in shades of vivid purple so it really stands out. If you want your fragrant geraniums to take center stage, you can choose classic green coleus and select a geranium in a bright and bold hue like red, pink, or orange. Hang these baskets somewhere where you want to pull focus and add a pop of color.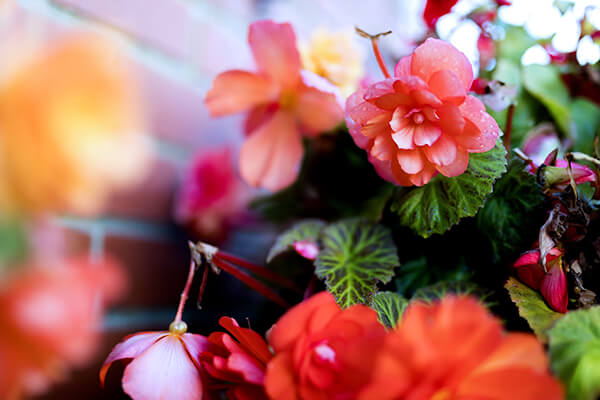 2. Bloomin' Begonias
Begonias are always a good choice if you love boisterous flowers with a flare for the dramatic. Their blooms can mimic roses, camellias, or Christmas cacti. Their flowers are quite large, and the stems sort of droop with a romantic cascading effect. Depending on which variety of begonia you choose, you may be able to let it creep along a trellis or anywhere you want a wall of blooms. Pair the bold begonia with a supporting cast of greenery: try sweet potato vine, dichondra 'Silver Falls,' or a fern.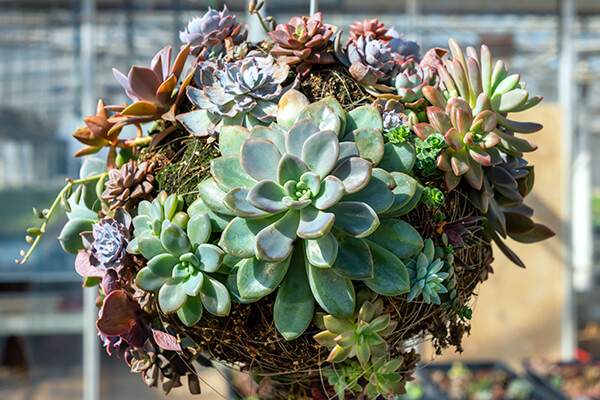 3. The Succulent Ball
If you're a little bit quirky, you can get creative and turn the traditional hanging basket on its head. Swap out the classic basket for a large hanging moss ball. Secure an array of succulents to the ball. If the moss ball is a bit too "out there" for you, you could fill any hanging basket with burro's tail, wax plants, sedum, climbing aloe, cacti, and any succulent-type plant that sparks joy.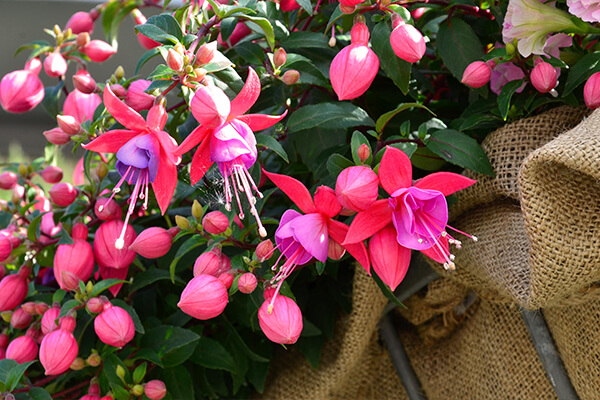 4.The Romantic One
If you're like us and you're spending your evenings watching way too many rom-coms and binging Bridgerton, you might want to put together a romantic hanging basket this spring. Fuschias, roses, and bleeding hearts send a clear message that you love love and you're looking for some more romance in your life. Fuchsias come in sweet shades of pink, white, and purple; they also drape dramatically over your container's edges with their bell-shaped flowers. Just like other lonelyhearts, they like a little steam, so keep them humid if you can.
5. The Easter Bunny Special
Get into the spring spirit by creating a hanging basket with all your favorite Easter themes. Tulips, roses, and petunias all come in soft pastel colors and herald the start of warmer days. Try pairing some of these delicate flowers with an unexpected match: a bunny-eared cactus! Get creative with your hanging basket theme ideas: it's a lot of fun and so easy to customize!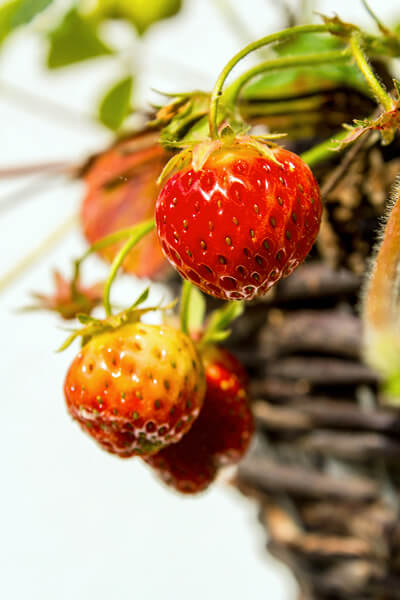 6. A Tasty Treat
Who says you can't have your hanging basket and eat it, too? Create your own edible hanging basket by pairing container-friendly fruits, vegetables, and herbs together. Begonia petals are actually edible and great in salads, and you can pair them with ornamental sweet potato, which has beautiful trailing greenery. Or, you could also try a hanging herb garden, a strawberry plant basket, or a mini veggie garden with chili peppers, cherry tomatoes, or zucchini.
Remember that you can get creative not only with the florals, herbs, and greenery you put in your hanging basket but also the basket itself! Repurpose household objects, change up the material of the basket, and hang it somewhere unexpected. If you're looking for more hanging basket ideas for your California garden, come visit us! We'd love to help you get creative this year and add some sweetness to your springtime.