How to Grow Your Own Healthy Vegetable Garden
Posted on: Monday, April 9, 2018
There's nothing better than homegrown fruits and vegetables picked ripe from your garden. If a refreshing salad or juicy piece of fruit sounds enticing, isn't it convenient to hop outside and pick out a healthy treat?
If you've never considered growing your own produce, here are a few reasons to plant your own fruit and vegetable garden.
Why You Should Grow Your Own Vegetable Garden
1. Incredible Flavor
Because most fruits and vegetables purchased at the grocery store are from commercial farming, the flavor in that produce is less than homegrown plants. According to Grow A Good Life, "Through selecting and breeding specific traits, these strains are developed to produce more per plant and be ready for harvesting all at once, have a longer shelf life, be uniform size and shape, ship without bruising, and often times finish ripening on trucks during shipping."
What does all that mean? Your "fresh" fruits and vegetables from the store may not actually be all that fresh. When you grow your own food however, you can decide to pluck it when it ripens and enjoy it right then and there.
2. No Chemicals
When you grow your own food, you have total control about what is put on it, including chemicals. If pests are a concern of yours, we recommend the following products for organic pest control:
Bacillus thuringiensis (Bt) – in all its forms (products), it works well on worms and caterpillars.
Captain Jack's Deadbug Brew™ – for prevention (and killing) of bagworms, beetles, borers, caterpillars, thrips and more.
Neem Oil – for use on aphids, etc. (apply in spring and fall).
Pyrethrin – for use on aphids, etc. (apply in summer).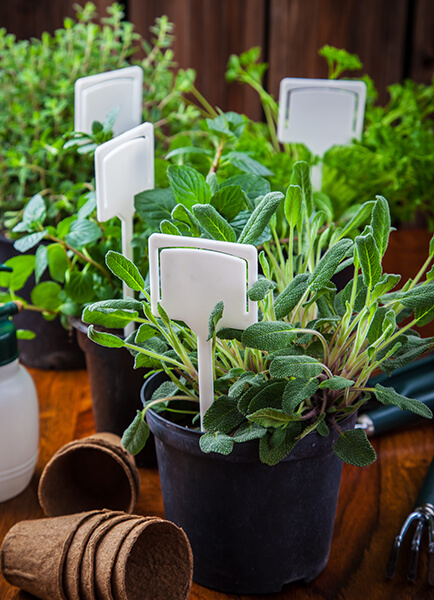 3. Increased Nutritional Value
Growing your own food will encourage you to eat healthier and better. Fruits and vegetables are two of the healthiest things on the planet, and something most people could use a few more servings of.
As Grow A Good Life states, "Fruits and vegetables that ripen naturally in the garden and are consumed within days of harvest have more nutrients than store-bought vegetables. Most of the vegetables that line the grocery store produce section are picked early, shipped to warehouses, distributed to the stores and stay in storage or on a shelf for a while until you purchase them. Over time, the nutritional value of fruits and vegetables declines. Not only do freshly picked fruits and vegetables taste better, but they also have a higher nutritional value."
While that store-bought vegetable may have some nutritional value, if you grow it in your own garden, it will taste fresher and have many more nutrients.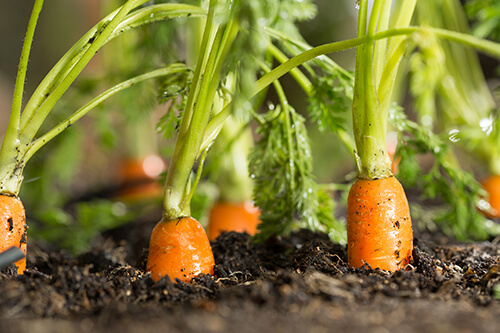 4. A Little Exercise
Did you miss your spin or goat yoga class? No worries, gardening is great to get a little exercise into your day. There is a lot of work to be done when it comes to prepping soil, building raised beds and moving around your garden, digging and planting seeds. Plus, that Vitamin D from the sun is healthy for you, too.
5. Reduce Food Waste
According to a report by New York Times, the "United States wastes more than $160 billion in food a year." That is so much money and food out the window. If being conscious about food waste is important to you, consider growing your own. You can control how many seeds you plant, which directly impacts how much will you'll yield. And, when you grow your own food, you eliminate buying too much produce and potentially not eating it all.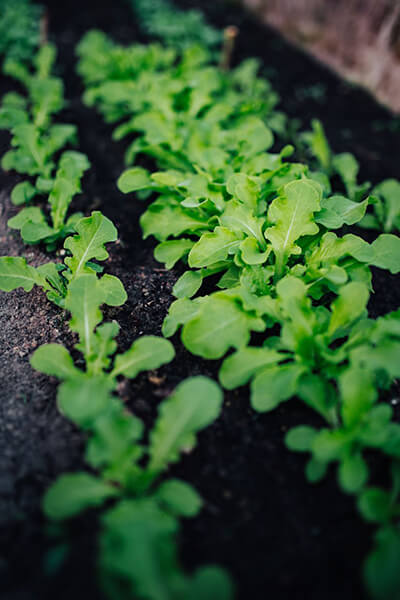 6. Save Money
Depending on where you buy your groceries – especially if you prefer organic produce – your bill can get steep. When you grow your own food, you can yield many servings of food for a small amount of money for seeds and other garden supplies.
7. Food Security
Many people who live in urban areas are victims of being in a "food desert." According to the American Nutrition Association, "Food deserts are defined as parts of the country vapid of fresh fruit, vegetables, and other healthful whole foods, usually found in impoverished areas. This is largely due to a lack of grocery stores, farmers' markets, and healthy food providers."
You don't need an acre of land to grow your own food; many fruit and vegetable plants can be grown in containers in your kitchen or on a front porch. With a little work and finesse, you can have a delicious and healthy garden just about anywhere, in whatever space you have available.
4 Container Gardening Tips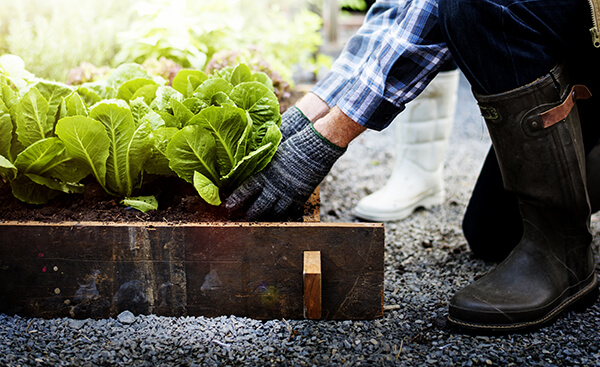 If you're limited on space, urban container gardening is a realistic alternative. Here are a few tips to create your own urban garden:
1. Location: Make sure your plant can get at least six hours of sunlight a day, though some herbs require less time in the sun.
2. Companion Planting: When selecting which varieties to grow in a container, we recommending thinking of companion plants. These ones grow well next to each other and encourage successful and healthy blooming.
3. Container Selection: Plant size, growth habit and root depth is extremely important when choosing containers. You will need enough space for your plants to spread out and be happy, without overcrowding one another.
4. Watering: Make sure your container has proper drainage and is correctly watered as it may miss rain fall.
Edible Flowers For Your Garden
Along with your standard fruits and vegetables, did you know you can also grow flowers to eat? These edible flowers are wonderful additions to salads and desserts, and are beautiful on a plate.
Here are our recommended edible flowers to grow in your container garden and how to eat them from What's Cooking America.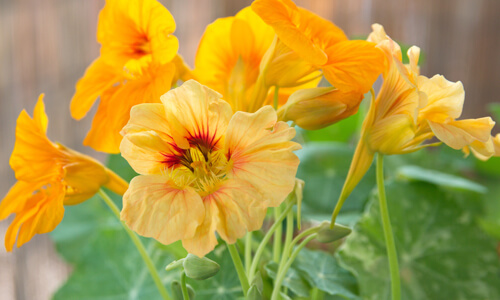 Nasturtium: According to What's Cooking America, "[Nasturtium] blossoms have a sweet, spicy flavor similar to watercress." You can stuff whole flowers with savory mousse or add leaves for a peppery tang to salads. Also, "Pickled seed pods are less expensive substitute for capers." You can also, "Use entire flowers to garnish platters, salads, cheese tortas, open-faced sandwiches, and savory appetizers."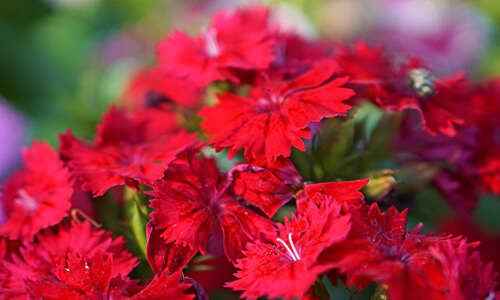 Dianthus: Dianthus are perfect sweet treats. They can be placed in wine, candy or used as cake decorations.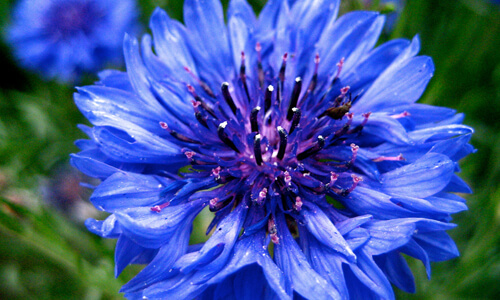 Bachelor's Button: These edible flowers are mostly used as a garnish; however, they have a nice clove-like flavor.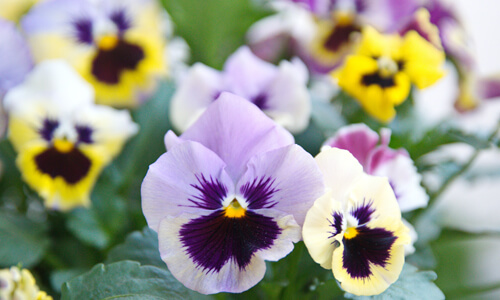 Violas: These flowers go from deep purple to pastel hues and make for a gorgeous pop of color. They can be added to drinks and cakes, or if you like, even cooked like spinach.
Pansies: These edible flowers can have a strong grass flavor and are often used as garnishes in salads (fruit or green) and soups.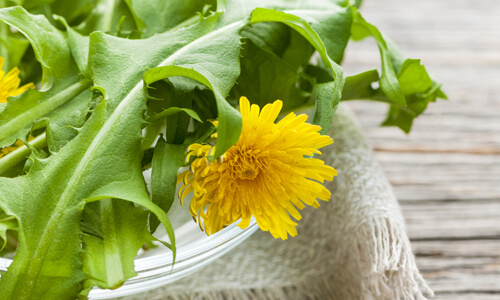 Dandelions: The younger this plant is, the sweeter flavor it has and turns bitter when it ages. Young leaves are tasty steamed or mixed into salads.
Get Growing
If there is a will, there is a way to create your own flourishing fruit and vegetable garden. Visit your local SummerWinds Nursery and speak with one of our garden experts to learn how you can get your own produce garden going; what will be the first thing you plant this year?