Tricks & Treats: 3 Easy & Delicious Pumpkin Recipes
Posted on: Tuesday, October 13, 2020
It's that All Pumpkin Everything time of year again, where every brand seems to be releasing a new limited-edition product flavored with that nostalgic, seasonal spice blend. Everything from our coffee to breakfast cereals is available in a pumpkin spice flavor! But, if instead of opting for the gimmicky store-bought products, why not try making your own delicious pumpkin-infused goodies from scratch?
These three recipes are simple to make, and all use fresh pumpkin puree that you can prepare at home. Get your pumpkin fix and try one of these tasty fall recipes that are perfect for sharing!
---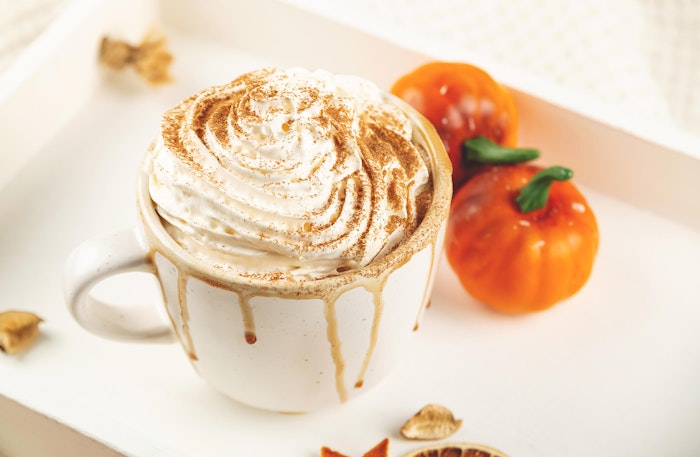 Pumpkin Spice Latte Syrup
Want to make your own pumpkin spice lattes at home instead of shelling out six bucks at your local coffee shop? Brew up some of this syrup instead! It also makes a fabulous topping for ice cream and other sweet autumn treats.
Ingredients:
1 cup of sugar
½ tsp vanilla
⅓ cup pumpkin puree
1 ¼ cups water
1 tsp cinnamon
¼ tsp cloves
¼ tsp ground ginger
½ tsp nutmeg
Directions:
Add everything into a saucepan, and on medium heat, bring the mixture to a slow rolling boil, stirring constantly to avoid burning.
Cook for 10–15 minutes, until the syrup thickens and coats the spoon.
Let it cool, pour into a jar, and refrigerate.
That's it! Now, to make your pumpkin spice latte with your new syrup, ad a few spoonfuls into 2 cups of milk, heat it up, then mix it in the blender so it's super frothy. Pour in some hot coffee, and then top it off with all the fancy fixings, like caramel drizzle and an extra sprinkle of cinnamon.
---
Low-Cal Pumpkin Blondies
If you're gonna do coffee time right, you've gotta have something tasty on the side. These low-calorie pumpkin blondies are so decadent, you won't believe they're actually kind of healthy! They're made with coconut sugar, which has a much lower glycemic index than regular cane sugar. So go ahead and enjoy a second helping of these easy-to-make blondies—they're great for an after-dinner treat or a midday pick-me-up!
Ingredients:
¾ cup pumpkin puree
⅔ cup coconut sugar
1 ¼ whole-wheat flour
¾ tsp baking soda
1 tsp vanilla
½ tsp nutmeg
¼ tsp ground ginger
¼ tsp cloves
¾ tsp cinnamon
1 egg
½ cup melted butter
½ cup dark chocolate, finely chopped
Pinch of salt
Crumbled walnuts (Optional)
Directions:
Preheat your oven to 350°F.
Mix the flour, spices, baking soda, and salt into a bowl.
Stir in the melted butter, pumpkin puree, egg, vanilla, and coconut sugar. Fold in half of the chocolate, but don't overstir it.
Line a square pan with parchment paper, and then pour the batter in.
Sprinkle the rest of the chocolate and the walnuts (if desired) on top and then bake for 20–25 minutes. Do a toothpick test to see if it's ready.
When it's done, let it cool for ten minutes, and then pull up the parchment paper to remove from the pan. Slice it up, and it's ready to serve!
---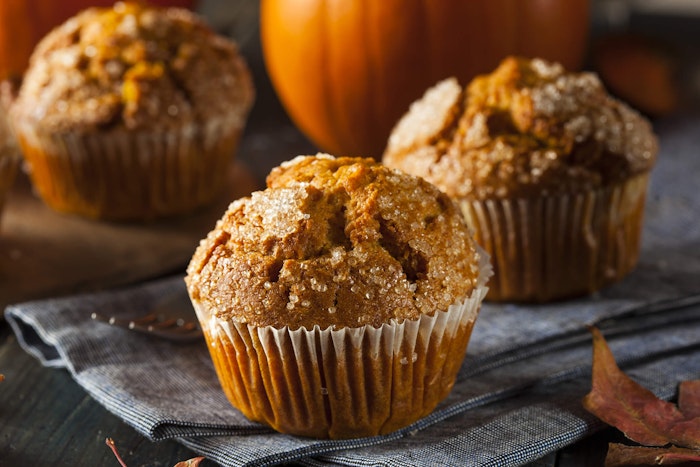 Healthy Maple Pumpkin Muffins
Double down on the fall flavors with this maple-infused pumpkin muffin recipe! For a simple breakfast on the go that's great on its own or warmed up with a little butter, you absolutely must whip up a batch of these sweetly-spiced, aromatic treats.
Ingredients:
1 cup pumpkin puree
2 eggs
⅓ cup warm coconut oil
½ cup real maple syrup
¼ cup milk or milk alternative
1 tsp cinnamon
½ tsp ground ginger
¼ tsp nutmeg
¼ tsp allspice
1 tsp baking soda
½ tsp salt
1 tsp vanilla
1 ¾ cups whole wheat flour
⅓ cup old-fashioned oats (plus a little extra to sprinkle on top)
Directions:
Preheat your oven to 325°F, and grease your 12-cup muffin tin with some nonstick cooking spray.
In a big bowl, beat the maple syrup and oil with a whisk, then add the eggs. Once it's frothy, add the pumpkin puree, spices, baking soda, vanilla and salt.
Add the flour and oats and mix. If there are a few lumps, don't worry! Now is a good time to add in any extras if you like, such as nuts or raisins.
Pour the batter into the muffin cups, and sprinkle some oats on top. You can also try sprinkling on some chunky raw sugar for a bit of extra sweetness and crunch.
Bake for 20–25 minutes, and do a toothpick test to see if they're ready.
These delicious muffins should keep in the fridge for four days, but can also be kept frozen in a freezer-safe bag for three months! Just pop them in the toaster oven or microwave when you're ready to eat them.
If you didn't grow any pumpkins in your garden this year, that doesn't mean you'll have to miss out on enjoying these tasty pumpkins treats! We've got plenty of pumpkins available this fall at SummerWinds California, so visit any one of our locations to stock up in time for the upcoming holidays!