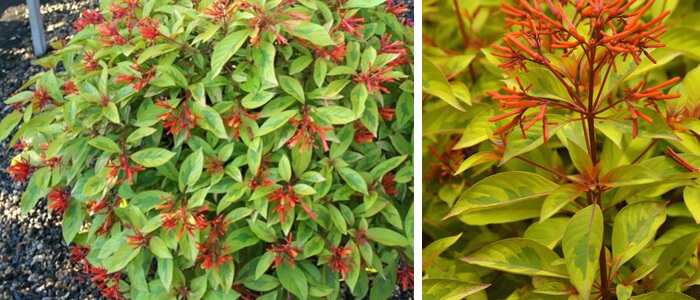 Growing California Plants: 6 Varieties that Will Thrive
Posted on: Thursday, August 24, 2017
When looking at plants online, you may think you can go to your local nursery and get whatever you want and have gorgeous blooming flowers. However, did you know that not all species are meant to grow in our California climate?
Here are six California plants as showcased by Better Homes & Garden that will thrive in your garden; check out your local SummerWinds Nursery to pick them up today.
6 California Plants for Your Garden
Hamelia Lime Sizzler - Firebush
This evergreen shrub offers fantastic green and yellow variegated foliage with sizzling red-orange flowers, perfect for brightening a border or summer patio containers. It prefers full sun and well-drained soils. This shrubs looks amazing next to almost anything.
Tecoma Sparky (pictured above)
The name says it all! Bright yellow and red trumpet shape flowers with lovely green foliage are eye-catching to all including bees, butterflies and birds. It's perfect for xeriscaping as it's drought tolerant once established.
Matilija Poppy
This beautiful perennial native poppy is often called the "fried egg plant" for its enormous white crepe papery flowers with their golden yellow centers. This plant spreads by aggressive underground runners, so plant it on a slope or other location with room to run.
Lemonade Berry
This large evergreen shrub is native to coastal sage scrub and chaparral. It has beautiful deep, green leathery leaves and rose pink spring flowers.
Hoary California Fuchia
This mat-forming perennial has narrow, slightly fuzzy pale green leaves and brilliant vermillion flowers in summer. These plants tend to run by runners, so give them room to roam.
Chalk Liveforever
Chalk Liveforever's ghostly blue-white succulent rosettes create long flower spikes that feature silver and red flowers in late spring and summer. It's an excellent choice to tuck in amongst rocks.

Pick up these six California plants and watch your garden thrive Note: Not all plants may be available at all locations; contact your local store to learn more. Check out our other blog posts for a variety of information about species you may want to add to your yard and how to take care of them, and visit your local SummerWinds Nursery for products and gardening help!

About SummerWinds Nursery: SummerWinds Garden Centers is a leading high-end retailer of garden and nursery products. Headquartered in Boise, Idaho, SummerWinds operates retail nurseries in the greater Phoenix, Arizona area, and in Silicon Valley, California, making it one of the largest independent retail nursery companies in the west. SummerWinds appeals to both the serious and casual gardeners, with a broad selection of premium gardening products and a friendly and knowledgeable staff. www.summerwindsnursery.com