Best Flowering Shrubs for Every Type of Space
Posted on: Monday, February 1, 2021
Whether you're short on space or have plenty to spare, planting flowering shrubs adds character and color to your yard. Read on and shop around to find the perfect fit for your garden.
---
Best Shrubs for Small Spaces
If you're short on space but still want to fill your yard with the best colorful shrubs, these dwarf plants are a great way to spruce up your garden.
Magic Carpet Spirea
Probably Aladdin's favorite shrub, the magic carpet spirea's foliage changes from red to a vibrant gold as it grows. It adds an extra splash of color in late spring when it bursts forth with pink flowers. It's a great addition for some added curbside beauty, reaching up to 18" - 24".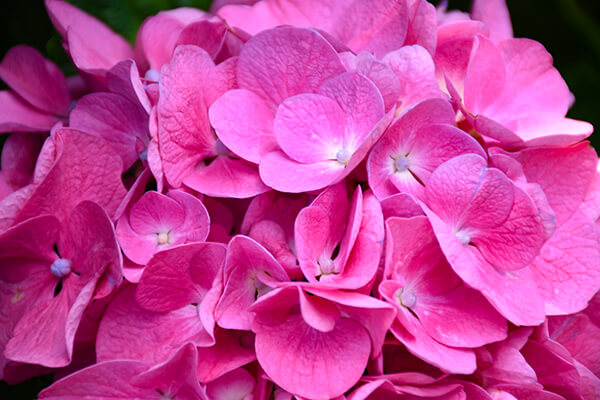 Pink Elf French Hydrangea
If you're feeling fancy, the Pink Elf French hydrangea gives a little bit of Paris to your yard. At only 18" in height and compact, it's the perfect fill-in for tight corners. The bold rosy-pink blooms are long-lasting and make great additions to cut bouquets. The french hydrangeas are low-maintenance in their pruning needs, and they can tolerate a bit of shade too.
---
Best Shrubs for Edible Gardens
Edible gardens are more popular than ever. We are crazy about growing our own food and being as self-sufficient as possible. These shrubs will provide you with some of nature's yummiest ingredients.
Wild Blueberry
Imagine having access to tasty, fresh blueberries right outside your door. Wild blueberries grow on low shrubs and can handle full sun or partial shade. Whether you're baking pies or just wanting to attract some amazing wildlife to your yard, the wild blueberry is a great choice.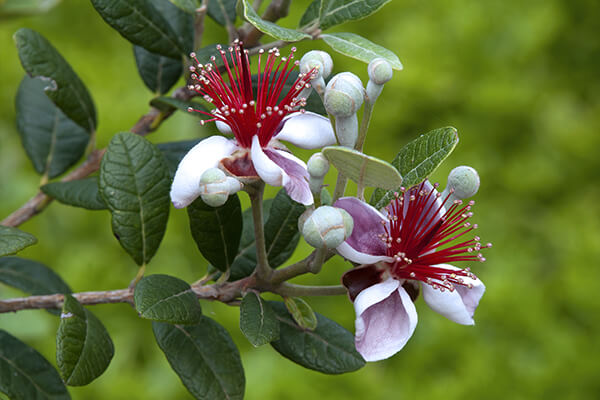 Pineapple Guava Shrub
One of the most versatile shrubs, the pineapple guava plant produces fruit and stunning blooms that are completely edible! These plants give a lot but take a little: they are fairly low-maintenance and drought-resistant.
---
Best Shrubs for Large Spaces
If you have more space than you know what to do with or are desperately hoping for some privacy in your yard, you should consider planting some fast-growing shrubs to fill in the gaps.
California Lilac
Feeling blue? California lilacs are known for their incredible light blue flowers and glossy green leaves. They can grow up to 9 feet in height, depending on what variety you select. Having a lilac tree in your yard creates a romantic scene, and there's nothing better than a lilac-scented spring.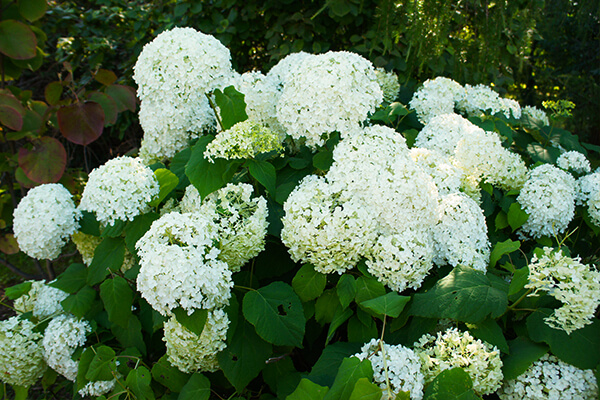 Hydrangea
The iconic hydrangea is a staple in California gardens. Their blossoms are used in the most beautiful arrangements and public gardens. They will need ample sunlight for the best blooms, but give them some afternoon shade, so they don't roast in the California sun. These shrubs can become quite large but are prunable if you want to keep them under control.
---
Best Shrubs for Tons of Sun
We know the California sun can be both a blessing and a curse. When you have a brightly-lit space that you need to fill, consider these sun-kissed beauties.
Hoary California Fuchsia
If you can say the name of this without smiling, you win a prize. And that prize is the beautiful vivid red flowers this plant provides in the summer. Their adorable leaves are a fuzzy pale green. It grows fine in the shade, but it will need full sun to get those vermillion blooms.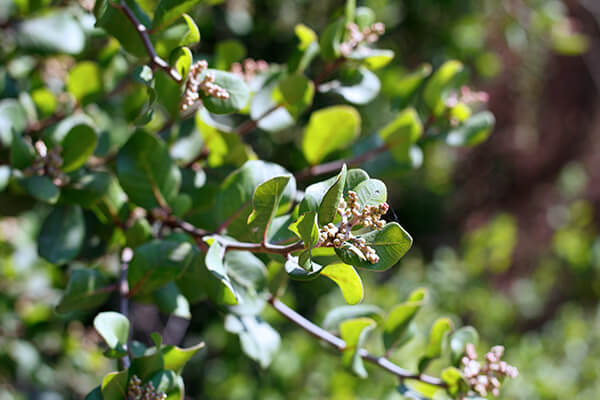 Lemonade Berry
This mouth-watering evergreen shrub has lovely green leathery leaves and spring flowers in hues of rosy pink. The lemonade berry shrub can handle full sun or part shade; just make sure it has well-draining soil.
---
Best Shrubs for Pollinator Gardens
Who doesn't love a pollinator party? Keep the bug, birds, and bees alive and thriving with these best shrubs for pollinators.
Honeysuckle
This classic and beloved shrub is known for its sweet scent that can't be missed. It attracts a range of wildlife and pollinators. Its unique pink and orange blooms are particularly attractive to moths at night when the smell is strongest.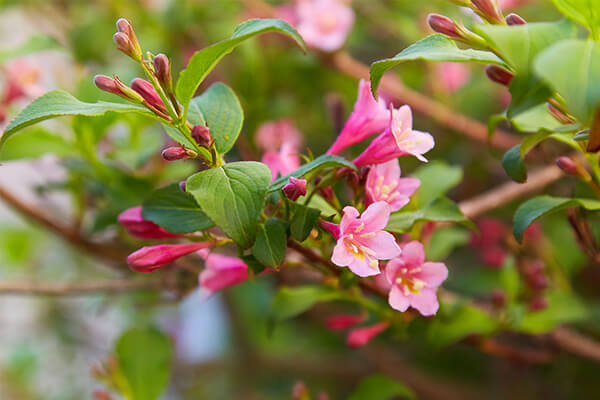 Weigela Pink Poppet
Another dwarf shrub, the weigela, is a fan favorite of bees and butterflies. It has adorable little pink flowers that are irresistible to both man and nature.
---
Best Shrubs for Part Shade
Whether in the shade of a tree, fence, or building, these beauties deserve to take up space in the tricky part-shade spots in your garden.
Catalina Perfume
With a fancy name and blooms to match, the Catalina perfume is quite adaptable to most conditions and soils. You can let it sprawl beautifully throughout your yard or keep it pruned and tidy. It's oval-shaped glossy green leaves release a lovely grape wine fragrance when crushed. Unfortunately, they do not contain any actual wine. The star-shaped flowers are usually a gorgeous maroon hue. One last bonus: the flowers and berries are great for attracting birds to your yard.
'Leatherleaf' Coffeeberry
While not overly-showy, the leatherleaf coffeeberry has a simple and understated beauty that still deserves its time in the (partial) sun. The coffeeberry's leaves are a dark green that looks a bit like leather. It has small and subtle yellow-green blooms that attract pollinators too.
Planting flowering shrubs is a fun way to incorporate color and cover in your garden this year. If you're looking for more information about California's best flowering shrubs, please contact or visit us. Please note, that plant selection may vary by location and time of year.
---